A Good Marsala Wine to Drink
Most people know Marsala wine as an ingredient in chicken Marsala and many other Italian and Italian-American dishes with a rich and sweet Marsala-based sauce. But did you know that it's also an excellent sipping wine?
In this post, I will quickly talk about a total of 9 Marsala wines that you can order online right now. Each one of them is authentic Marsala wine, which can only come from a lovely Italian island called Sicily. And while I will not be reviewing any Marsala cooking wine, everything below is great not only for drinking but for cooking, too.
But before we dive into the reviews, let's quickly answer a couple of pressing questions first…
Is Marsala wine good to drink?
Dry Marsala wine is good to drink before a meal as an aperitif and after a meal as a digestif. It also pairs with a lot of meat and seafood dishes. On the other hand, sweet Marsala wine is good to drink as a dessert wine, pairing very well with a variety of desserts, including especially chocolates.
Does Marsala wine have alcohol?
Marsala wine has alcohol. As a matter of fact, it has more alcohol than most other wines because it's fortified, usually with brandy. The average alcohol content of Marsala wine ranges from 15% to 20%. The more aged and the dryer the Marsala wine, typically, the higher the alcohol levels.
Opici Dry Marsala
Costing only $8.99 as of this writing, Opici Dry Marsala is one of the cheapest dry Marsala wines online.
Having an ABV of 17%, the product has a dry, nutty taste. Both flavor and aroma are pronounced, but not too much as to overpower food — whether food that it's paired with or food to which it's added in the cooking process. And speaking of which, this type of Marsala is considered more versatile in the kitchen as a cooking ingredient than the sweet one.
This fortified Italian wine is blended with older reserves of Marsala in order to give it a rich golden brown color. On the other hand, some Marsala wines out there rely on caramel coloring.
Opici Dry Marsala is great for pairing with chicken and seafood dishes and boosting the flavor of sauces.
Pellegrino Marsala Superiore
Generally speaking, the less aged the Marsala wine, the more commonly used it is for cooking sweet sauces. Pellegrino Marsala Superiore is aged for only 24 months. This provides the Italian wine the sweetness it needs to make thick and rich sauces for Italian and Italian-American dishes pleasant.
Boasting of an intense amber color, the product is made from Sicilian grape varietals Grillo, Catarratto and Ansonica.
Upon opening, you might pick up the intense smell of dried figs with a suggestion of plum aromas. Fermented in stainless steel tanks and aged in oak casks, it has a rounded taste with hints of honey.
Thanks to its sweetness, Pellegrino Marsala Superiore is not only excellent as a cooking ingredient but also great as a dessert wine. Currently, a 750-ml bottle retails at $12.99.
Curatolo Arini Sweet Marsala
Because it has a familiar and welcoming taste much like that of sherry, most fortified wine aficionados might find Curatolo Arini Sweet Marsala an agreeable dessert wine.
A 750-ml bottle with 17% ABV currently carries a price tag amounting to $16.96.
Many of those who have already tried Curatolo Arini Sweet Marsala agree that the Sicilian wine features a complex flavor profile of honey, caramel, citrus and almonds. Some can't help but notice the slightly herby and menthol notes. With obviously high residual sugar, the product is suitable as both a dessert wine and a cooking wine.
Curatolo Arini, its producer, is considered the oldest family-owned Marsala maker in Sicily these days, being founded way back in 1875. Until now, it makes its Marsala wines in the traditional fashion in order to give them a timeless feel.
Lombardo Fine IP Ambra Sweet Marsala
If you are fond of port wine, you will find the appearance and flavor of Lombardo Fine IP Ambra Sweet Marsala awesome because it's also rich amber in color and has a slightly sweeter and brighter taste. Of course, it has honey, buttery, nutty and stewed apricot notes, which are all signatures of genuine Marsala wine.
Presently retailing at $11.99, it's from a winemaking company that has been continuing to revolutionize and perfect the Marsala producing process ever since it was established in 1881 in western Sicily.
Needless to say, Lombardo Fine IP Ambra Sweet Marsala is made from grape varietals native to the island.
Because of its rather high residual sugar content, the product is commonly served as a dessert wine. It also makes for great cooking wine, typically for making rich and sweet sauces as well as various pastries and baked goods.
Pellegrino Dolce Marsala Fine Rubino
Also referred to as dolce Marsala by wine aficionados, sweet Marsala is the perfect companion to chocolate and all sorts of rich chocolate desserts, which can be very tricky to pair with wines. Pellegrino Dolce Marsala Fine Rubino is one of those that can be served with them or with practically any dessert of one's liking.
Made from Nero d'Avola native to Sicily, the product, which costs $17.99, has an eye-catching ruby hue.
The use of the said indigenous grape varietal gives Pellegrino Dolce Marsala Fine Rubino a sweet, fresh and fruity taste. You should also pick up hints of plums, black cherries and pomegranates with every sip. As such, using this Marsala wine can help make sauces, like those that are incorporated into various Marsala dishes, burst with flavor.
To date, Pellegrino, the wine's maker, is considered the biggest producer of an assortment of Marsala wines in Sicily, cultivating natives such as Catarratto, Pignatello, Grillo and Nero d'Avola grapes.
Colombo Dry Marsala Wine
It may be being marketed as dry Marsala wine alright. But the vast majority of feedback by those who have gotten their hands on a bottle of Colombo Dry Marsala Wine, however, says that its full body cannot do much to hide the fact that it's slightly sweet, which makes it a highly versatile sipping and cooking wine.
Your $9.99 is equivalent to Marsala wine that can be used as both an aperitif and dessert wine.
One of the things that make Colombo Dry Marsala Wine enjoyable is the fact that it's nutty and slightly caramel-like with hints of raisins and figs and some bright herbs — minus overpowering and confusing the senses.
But keep in mind that because it costs below $10, some consumers agree that while it's a good sipping wine, the quality of this product makes it so much better as a versatile cooking wine that can make sauces sing.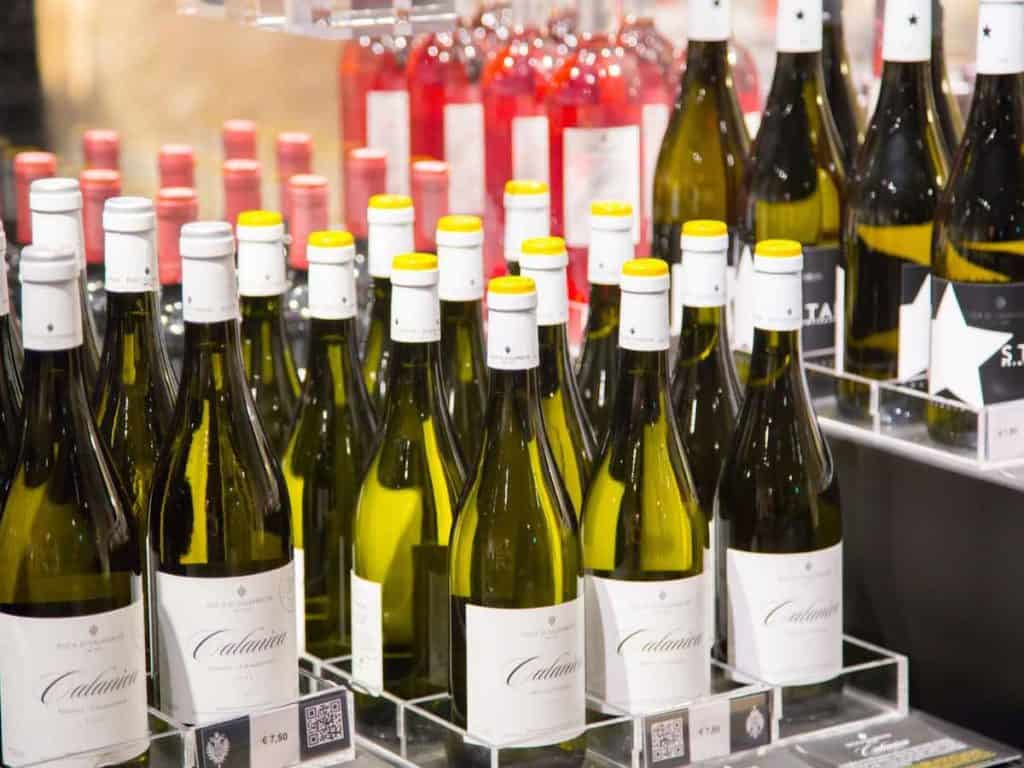 Florio Dry Marsala Superiore
Aged for more than 30 months in oak casks, it's apparent that Florio Dry Marsala Superiore is suitable for individuals who prefer to have a bottle of Marsala wine that they can sip and cook with no matter the occasion.
The product gets its beautiful light brown color from the Nero d'Avola grapes, which are native to Sicily, it's made from. Other than the appearance, the use of those Sicilian grape varietals gives the Marsala wine a full and harmonic flavor, with some unmistakable notes of vanilla, raisins and cherries.
Priced at $11.99 per 750-ml bottle, the fortified wine makes for a great dessert and cooking companion.
With the right balance of dryness and sweetness, this Marsala wine pairs best with chicken and seafood dishes as well as a variety of nuts and cheese. Naturally, it also doubles as a versatile cooking wine.
Florio Sweet Marsala Superiore
Simply put, this is the sweeter version of the bottle of Marsala wine I just finished talking about. This makes it more of a dessert wine, which goes really well with decadent chocolates and chocolate-based desserts. It's also typically the Marsala wine of choice for making sweet Marsala sauce and a variety of baked products.
Aged 2 years in oak casks, it's no wonder why Florio Sweet Marsala Superiore possesses the sweetness that it has, whose complexness packs hints of honey, brown sugar and caramel.
As expected, there is also an unmistakable hint of nuttiness to every sip or dash you make.
It's been almost 2 centuries now that the maker of Florio Sweet Marsala Superiore, which, by the way, currently retails at $12.29, has been producing wine made from grapes native to Sicily.
Ostinato Fine Ambra Secco Marsala
Balanced and refined, Ostinato Fine Ambra Secco Marsala, which costs $12.99 per 500-ml bottle, is made using nothing but traditional Marsala winemaking methods. It uses Grillo, Inzolia and Catarratto, which are white grapes native to Sicily. It goes without saying that this product is one authentic Marsala wine.
With an ABV of 17%, the wine is dry and nutty, boasting of earthy, bright, fruity and acidic notes.
Having less residual sugar than sweet Marsala wine varieties means that it complements a wide variety of meat dishes, including those that involve cured meats. Most fish dishes won't be complete, too, without a glass of it within one's reach. Naturally, it also pairs with an assortment of cheeses, from semi-firm to the stinky kinds.
Aged in oak casks, Ostinato Fine Ambra Secco Marsala does not rely a lot on fortification to obtain its characteristics, which means that most of its features are naturally its own.
Conclusion
Marsala wine comes in different ages, colors and dryness/sweetness levels. And that is why this fortified wine is praised for its versatility as a drinking and cooking wine. But regardless of the age, hue and taste, one thing remains true, and that's the fact that real Marsala wine can only come from one place on the planet: Sicily.
Above, I briefly reviewed a handful of Marsala wines you can easily order on the internet.
Keep your personal preferences and needs as well as budget in mind when shopping for one so that the best possible bottle of Marsala wine for you will arrive at your doorstep.