How To Serve Gluhwein Wine
Nothing beats the feeling of drinking gluhwein while you are wrapped inside a blanket or sitting in front of the fireplace while it is chilly outside. The delicious aroma of whole spices like cinnamon and cloves mixed with the zest of citrus fruits simmered lightly in Red wine makes it taste like Christmas in a mug.
Although this aromatic drink can be enjoyed on its own, serving some snacks with it is a good idea. Along with this, there are a few things to keep in mind while serving this as you want to keep it warm and taste the assorted range flavors of the wine.
So, read along to know more about how to serve gluhwein wine and all the snacks that can go with it.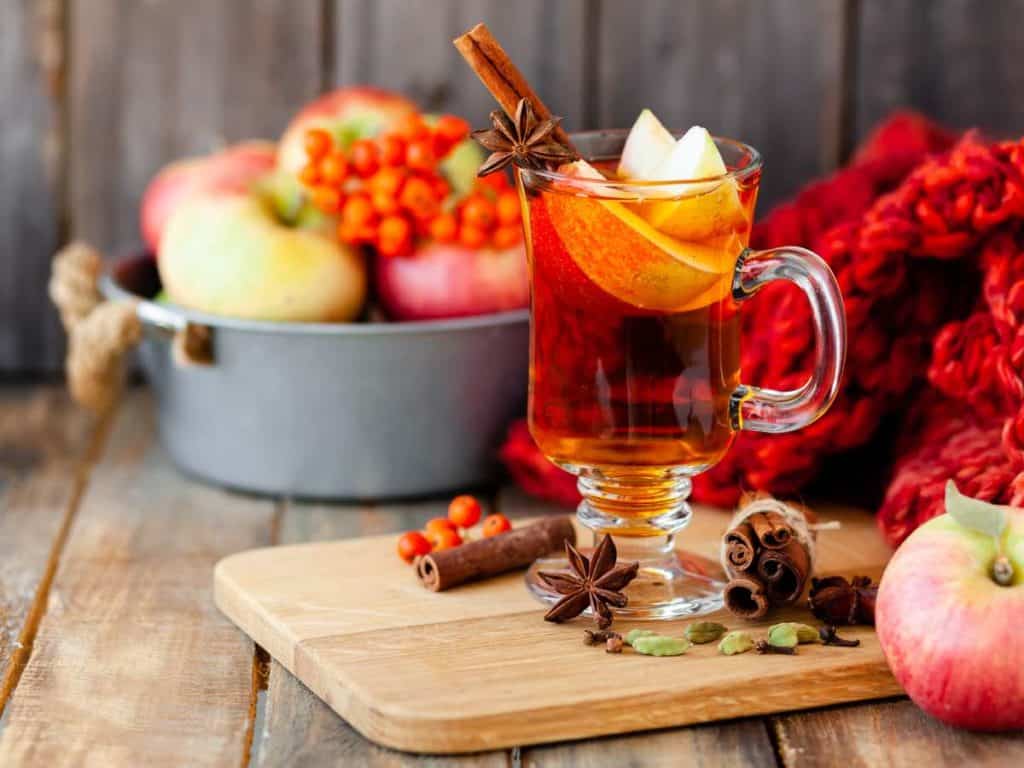 What are the Foods you can serve with Mulled Wine?
Gluhwein can simply be served with some German stollen or pfeffernusse cookies, but this does not cut it, especially if you have your family or a few guests over for Christmas.
So to have more ideas on the varieties of snacks that you can serve with this beverage, check out the following list.
Starter
This drink in itself has different flavor notes of the sweetness of the species and bitterness of red wine paired with the tanginess of the oranges/lemons. So to get a perfect appetizer for this, you need something with a salty or a creamy punch to it.
Blue cheese, aged cheddar, roquefort, wensleydale, comté cheese, and camembert are excellent to pair with mulled wine. If you're a vegan, choose a cashew-nut-based cheese or one with a robust flavor.
In Scandinavian countries, fermented foods are frequently served with mulled wine.
Another great combination to pair this with is caviar and cream cheese.
Roasted nuts pair beautifully with mulled wine. Salt roasted nuts, as well as other flavored nuts such as BBQ, savory herbs, and honey roasted nuts, are your best bets.
A sweet and savory mince pie is a popular Christmas dish in the United Kingdom. You don't have to live in the United Kingdom to enjoy this custom. Mince pie is a delicious snack to serve with mulled wine.
Main Course
Wine is a popular drink to have at your dinner table, and just when Christmas is around the corner, it is wonderful to have a gluhwein while you enjoy your food with your family.
Although this is paired with typical holiday dishes, you can also think out-of-the-box to prepare a delicious meal with this spiced wine.
Roasted meat and vegetables are considered a classic combo meal to include in your Christmas/winter dinners. This goes amazingly well with mulled wine.
Glazed ham is another good traditional option for you to pair with this drink.
Deep-fried cuisine, such as pork schnitzel with lemon cream sauce, is a popular combo in countries like Germany and Austria.
If you are looking for an alternative for pork schnitzel and want to try out something different, then deep-fried spicy mozzarella sticks are your way to go.
Desserts
We know red wine and chocolate are a great combination, and when you talk about this spiced German wine, even though it is on the sweeter side. When paired with the right ingredients, it will be incredible.
The rich bitterness of dark chocolate with sweet wine is an ideal combo that compliments each other.
The holiday spirit is incomplete without fresh gingerbread cookies and a warm mulled wine mug.
Pair your drink with seasonal fruits like cranberries, pears, etc., when looking for a healthy and easy option.
Things to remember while serving Gluhwein Wine
Here are a few tips to keep note of to serve a perfect Gluhwein wine:
1. Gluhwein Mugs
This is a typical drink served in ceramic or porcelain mugs in German holiday markets. And that tradition makes more sense as it will insulate your hands from the spiced wine's heat. So you can be comfortable holding on to your hot wine without burning yourself.
Although, there are glasses available on the market that you can use to serve your mulled wine.
2. Smooth wine
Avoid using powdered ground spices while making this recipe as it gives the drink a grainy texture and is not high on aromatic flavors.
To have a smooth mulled wine with an intense flavor of the spices, giving it the signature taste. It would be best to use whole spices that are lightly toasted to enhance the richness.
3. Serve it Hot
This winter beverage is famously served hot. All the ingredients in this wine are added to the saucepan and simmered down till the flavors of the fruits and spices are there in this drink.
You can simply make large batches of this spiced wine and store it throughout the winter. Then, all you need to do is reheat and enjoy your hot beverage.
However, you must make sure that you don't overheat this by bringing it to a boil as it will lose the alcohol punch of the wine. You can even opt to store it in a thermos, which will help you to keep it warm for a longer time.
4. Garnish the wine
You can serve this bittersweet wine without any garnish on it. But when you are looking to impress your guests or family, then knowing the garnishes for this wine is critical.
Add some whole spices like cinnamon or star anise to the mulled wine. You can even add some extra slices of used citrus fruits to make this beverage. Lastly, put some cherry or any fresh seasonal fruit in the drink, and your drink is now perfect
Final Thoughs on Serving Gluhwein
All in all, serving mulled wine is not rocket science. All you need to do is keep a few things in mind and appreciate the smooth texture of this drink.
You can even prepare a charcuterie board with a variety of snacks to enjoy with the wine. But, remember, to serve the gluhwein hot as a cold one won't have those rich layers of flavors.
That being said, you now know how to serve Gluhwein wine, so you can go ahead and get a kick out of this delicious beverage.