Top 8 Beaujolais Wines You Can Buy
Wondering what wine to pick up for that special occasion or date night? How about a bottle of Beaujolais wine? And not the light and fruity glou-glou Beaujolais Nouveau but a red wine from Beaujolais crus that could pass for Pinot Noir.
Understanding more about the Beaujolais wine region and the wine-making process can help you choose the best wine to match your mood or occasion. This article covers the above eight choices and other topics that will boost your Beaujolais wine knowledge so you can buy your next bottle with confidence.
Best Beaujolais Wines
1. Domaine Mathieu & Camille LaPierre Cuvée Marcel
This Beaujolais red wine is produced in the Morgon appellation from century-old vines in Côte du Py and Douby. Expect aromas of ripe cherry with spicy notes on the nose and dominant fresh red berry flavors on the palate.
The garnet red wine has rounder, softer feeling tannins that intermingle with a hint of herbs, resulting in a persistent finish. Overall, the Cuvée Marcel is what I would only describe as a beautiful assault to the senses.
The ideal serving temperature for wines from the Morgon appellation ranges from 15°C to 17°C (59 °F to 62.6 °F). So I'd recommend a fine glass of this Beaujolais during a warm day.
Culinary suggestions: Sirloin steak, veal, white meats (preferably poultry), pasta
Where to buy Domaine Mathieu & Camille Lapierre Cuvée Marcel: Vivino Website
Recommended vintages: 2018, 2019, and 2020
2. Vivanterre Gamay MVB
The Vivanterre Gamay MVB is a natural red wine made using Gamay sourced from three different vineyards in different appellations. The primary source is 65-year-old vines in Moulin-à-Vent cru, aka "The Lord of Beaujolais wines." The Brouilly appellation provides about a third of the grapes, while the rest are from a vineyard owned and farmed by Patrick Bouju and Justine Loiseau.
Gamay MVB is a fruit-forward Beaujolais both on the nose and palate. Some fruity notes it boasts include cherry, cranberry, strawberry, and blackberry. However, it has more tart fruit characteristics than sweet fruit, so expect a hint of bitterness. Regardless, the wine is easy to drink.
Moreover, the Vivanterre Gamay MVB is slightly effervescent, though not fizzy like champagne. Serve the wine with a bit of chill to experience it as the winemakers, Patrick and Justine, intended.
Culinary suggestions: Chicken, salmon, grilled vegetables, cheese board
Where to buy Yvon Métras Fleurie: Vivanterre Website
Recommended vintages: 2019 and 2020
3. Jean Foillard Morgon Cuvée 3.14
Another natural red wine of Beaujolais from Morgon cru, Morgon Cuvée 3.14 is produced by Jean Foillard using Gamay from century-old vines. Following 3-4 weeks of whole-cluster fermentation, the wine is aged in used oak barrels for 6-9 months, giving it a magnificent body.
Here's what to expect in terms of taste and flavor:
An intense nose with strawberry, raspberry, and cherry aromas accompanied by hints of violet, licorice, vanilla, and smoke.
Smooth and flavorsome on the palate but well structured.
Silky and rich tannins, mineral notes, and a hint of spice.
All of the above culminate in a harmoniously balanced finish.
Morgon Cuvée 3.14 is amazingly complex and highly drinkable in its youth. But with a bit of age, it will develop excellent depth and richness of flavor. So you might want to cellar it to give it more appeal and interest when you eventually drink it.
Culinary suggestions: Beef and pork ribs, veal filet mignon, lasagne, duck, shad
Where to buy Jean Foillard Morgon Cuvée 3.14: Wine-Searcher Website
Recommended vintages: 2009, 2010, 2013, 2014, and 2016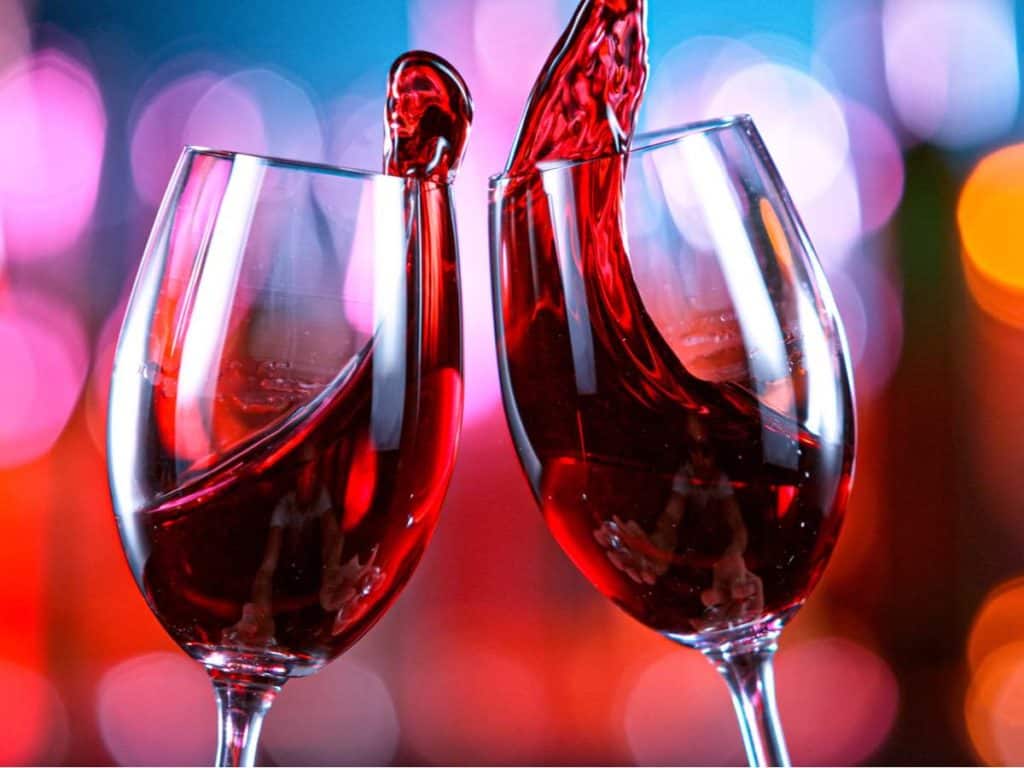 4. Les Bertrand Saint-Amour Les Bambins
Wines from the Saint-Amour appellation are either light and fruity or powerful and complex. Saint-Amour Les Bambins red wine falls in the former category. It is made from old vines (35+ years) and naturally vinified, meaning no added yeast or sulfites. Keep in mind, "no sulfites added" does not necessarily mean that the wine is sulfite-free.
This Beaujolais is a brilliant ruby red. It exhibits an enticing nose of ripe red fruits, violets, and hints of oak. Red and black fruit flavors with spicy and mineral notes explode in the mouth, making this a balanced crowd-pleaser with a richly flavored finish.
Saint-Amour Les Bambins is the perfect Beaujolais wine to celebrate love and being in love. Share a chilled bottle with your sweetheart, preferably on a warm date night, and make it a memorable evening.
Culinary suggestions: Poultry, pasta, pork, raspberry chocolate fondant
Where to buy Yvon Métras Fleurie: Wine Searcher Website
Recommended vintages: 2017, 2018, and 2020
5. Yvon Métras Fleurie
A list of best Beaujolais wines wouldn't be complete without a Yvon Métras wine. And while there are several, I can confidently say the Yvon Métras Fleurie is the best of the bunch. It's a refreshing, elegant red wine made from Gamay cultivated in Fleurie cru, aka "The Queen of Beaujolais."
Generous berry aromas mingle with pleasant violet notes, giving this deep ruby wine a floral and fruity nose. The palate is alive with redberry fruit and a touch of earth and minerality. Also in the mouth are mellow but noticeable tannins that offer a smooth and silky finish.
The Yvon Métras Fleurie is a perfect feminine Beaujolais wine to share with guests over dinner or present as an apéritif. To fully appreciate the floral and fruity aromatic bouquet of the wine, drink it chilled.
Culinary suggestions: Pork, chicken, turkey, salmon, veal
Where to buy Yvon Métras Fleurie: Wine Searcher Website
Recommended vintages: 2015, 2018, and 2019
6. Domaine Franck Besson Juliénas Le Clos Du Fief
Le Clos du Fief is a Beaujolais wine produced by Domaine Franck Besson, a winery located in cru Juliénas. The Gamay Noir à Jus Blanc used to make the wine are hand-picked from the oldest vines (nearly 100 years old) in their estate.
The deep ruby-red wine has a balanced red berry bouquet with spicy and violet notes. It's full of fleshy and ripe red fruit flavors, but displays a well-balanced palate structure. The tannins are elegant and smooth, thanks to briefly aging the wine in barriques.
You may enjoy this Beaujolais wine young. However, cellaring it for a few years, say 2 or 3 years, will allow the wine to express its full flavor and aroma. The winemaker actually recommends aging the wine for at least ten years for the perfect drinking experience.
Culinary suggestions: Steak, lamb chops, roasted chicken, ham sandwich, roasted vegetables
Where to buy Domaine Franck Besson Juliénas Le Clos du Fief: Vivino Website
Recommended vintages: 2015 and 2017
7. Pierre Cotton Côte De Brouilly Les Grillés
On the slopes of Mont Brouilly is the Côte de Brouilly appellation, where winemaker Pierre Cotton manages a single 1.5 hectare parcel called Les Grillés. From this vineyard comes Côte de Brouilly Les Grillés, a rich red wine produced from 60-year-old vines.
Red and black fruit display prominently on the nose alongside subtle scents of earth and spice. The palate is just as abundantly fruity with rounded tannins and balanced acidity.
Côte de Brouilly Les Grillés has an aging potential of 10 years. But if you prefer, you can drink it now to enjoy the explosion of fresh fruit flavors and aromas.
Culinary suggestions: Cured meat, pork chops, chicken, rabbit, soft cheese
Where to buy Pierre Cotton Côte de Brouilly Les Grillés: Wine Searcher Website
Recommended vintages: 2017, 2018, and 2019
8. Domaine Anita La Rochelle Moulin À Vent
Domaine Anita La Rochelle comes from the prized cru of Moulin à Vent. It's a noble Beaujolais produced from Gamay grown on old gobelet-trained vines. The vinification process involves macerating the grapes in vats for 24 days then aging the wine for six months.
Ruby red with enticing aromas of black fruit (blackberry, black cherry, and plum), earth, and smoke. On the palate, it's smooth yet muscular and concentrated with black fruit flavors. The wine also offers a decent length and finish.
Domaine Anita La Rochelle has good cellaring potential, so drink now or stash away. Highly recommend it for special occasions and as an accompaniment for sophisticated dishes.
Culinary suggestions: Duck breast, rabbit in mustard sauce, stuffed turkey, eggplant
Where to buy Domaine Franck Besson Juliénas Le Clos du Fief: Vivino Website
Recommended vintages: 2018 and 2019
Beaujolais Winemaking
Beaujolais (pronounced as boh-zhaw-le) is a region of France located north of Lyon and south of Burgundy. It lies to the west of the Saone river plain and east of the foothills of the Massif Central.
Beaujolais wines are generally light- to medium-bodied, low in tannins, and high in acidity. They're intensely fruit-driven, characterized by raspberry, cherry, and blackberry flavors. Other flavors commonly displayed include earth, violet, mineral, and spice.
Beaujolais wine must contain an ABV of at least 10%.
Beaujolais vinification starts with harvesting the Gamay grapes. The grapes are hand-picked and carefully sorted to remove any damaged berries.
The winegrowers then place whole grape bunches in vats without compacting or destemming the grapes. Whole-bunch fermentation, also known as whole-cluster fermentation, allows the wine to develop pronounced fruity aromas.
Next is the semi-carbonic maceration, which involves the following processes:
Alcoholic fermentation. Owing to the weight of the grape bunches, the grapes at the bottom are crushed, releasing their juice. Yeast on the grape skins ferments this juice, producing alcohol and carbon dioxide.
Intracellular fermentation. The carbon dioxide creates an anaerobic (oxygen-free) environment. Consequently, fermentation inside the berries at the top starts. Intracellular fermentation produces a small amount of alcohol as well as aromatic compounds. The grape skins split and release their juice when the alcohol reaches around 2% ABV.
Maceration. The whole bunches in the middle of the vat macerate in the released juice. The process results in the extraction of tannins, colored pigments, and aroma compounds from the grape skins. These phenolic compounds determine the wine's color, flavors, and structure.
During maceration, juice from the bottom of the vat is poured over the grape cap to ensure a consistent temperature through a process called pumping over (remontage).
After maceration, the winemakers move the fermented free-run juice into another vessel in a process known as racking (soutirage). The grape solids left behind are retrieved and pressed to extract more juice.
Finally, the free-run juice is mixed with the pressed juice to continue fermentation, marking the start of élevage or maturing. The latter adds color, tannins, and complexity to the wine.
Beaujolais Wine Classifications
Since maceration for these wines takes 4 to 6 days, Beaujolais Nouveau wines are light-bodied and are almost entirely free of tannins. Not the best expression of Beaujolais quality for sure.
If your palate appreciates tannic wines that, over time, soften and get a more complex bouquet and savory taste, Beaujolais Nouveau isn't it. Instead, try a rich and well-structured red wine from one of the 10 Beaujolais crus (refer to the section below for more details).
Beaujolais has 12 appellations. You have the regional AOCs, AOC Beaujolais and AOC Beaujolais Villages. And the 10 Beaujolais crus (communal AOCs), namely Brouilly, Côte de Brouilly, Chénas, Fleurie, Juliénas, Chiroubles, Morgon,Moulin-à-vent, Régnié, and Saint-Amour.
Each wine-producing region has specific characteristics that determine the quality of the wine. Based on this, there are three classifications of Beaujolais wines:
AOC Beaujolais. Festive, easy-to-drink wines that are generally the least expensive. The appellation is especially known for producing Beaujolais Nouveau.
AOC Beaujolais Villages. Expressive wines that are intensely fruity and aromatic. Some are richer and structured with a few years of cellaring potential. And others like Beaujolais-Villages Nouveauare typically light in body and meant to be enjoyed young.
Cru Beaujolais. Exceptional, rich red wines from the 10 crus in Northern Beaujolais. They tend to be more full-bodied, darker in color, and significantlylonger-lived hence the most expensive Beaujolais.
How to Pick the Perfect Beaujolais
There's a Beaujolais wine for every occasion. But with so many great brands, it's easy to get overwhelmed when wine shopping. So here are a few tips to help you pick a good bottle of Beaujolais.
Choose a Beaujolais from one of the 10 Beaujolais Crus. These appellations produce structured, complex, and age-worthy wines.Mid and late 2010sBeaujolais Villages vintages offer intense and fruity wines at a great value. I recommend Domaine Chapel Beaujolais-Villages. It has an expressive red fruit fragrance and flavor that flourishes after a few years of aging.
Use this wine search engine by Inter Beaujolais, the Beaujolais wine council. After selecting your taste preferences, it will recommend the appellations that suit you best.
Read Also: How To Serve and Drink Beaujolais