7 Amazing Things You Can Do With Shrimp Stock
Disposing of shrimp shells is like throwing away rich ocean flavors that can turn various seafood dishes from mundane to insane! Making shrimp stock from scratch is incredibly easy. And it's unbelievably versatile, too.
Adding shrimp stock to traditional dishes with shrimp or any other seafood helps maintain flavors that the use of vegetable or chicken stock may weaken. It can be used to infuse concentrated flavor into anything from shrimp stew to scampi. Shrimp stock may also be used for cooking pasta, noodles and rice.
How Do You Make Shrimp Stock?
Shrimp stock can be made at home by sauteing shrimp shells in oil, preferably olive oil or canola oil, and then boiling them in water for a few minutes. Flavored oils such as garlic and basil may be used instead to enhance the flavor. Adding aromatic herbs to the water is also a possibility.
Chicken stock and vegetable stock are commonly used stocks in numerous recipes.
While they are very good at doing their job, the fact remains that making them is time-consuming. Chicken stock can take anywhere from 3 to 4 hours or even more, depending on the recipe. Vegetable stock, on the other hand, takes about an hour to make. Shrimp stock? Just around 10 minutes!
Here's the quickest way to make shrimp stock from scratch:
Grab a skillet. Heat olive oil or canola oil over medium-low heat.
Saute shells from 1 pound of shrimp for 2 to 3 minutes.
Pour 1 and 1/2 cups of water into shrimp shells and simmer for 5 to 7 minutes.
Regularly, press down on the shells with a large wooden spoon to extract the flavors.
Get a large saucepan and place a mesh strainer over it.
Carefully pour shrimp stock through it — press down on the shells.
Add a pinch of salt if preferred.
That's how quick and easy it is to make shrimp stock! And because the shells removed from shrimp you are about to cook are the ones used, it's practically free of charge.
In an airtight container, your homemade shrimp stock will last for up to 4 days in the refrigerator. You can also place it in a freezer-safe container and store it in the freezer, where it will stay in excellent condition for up to 4 months.
Things You Do With Shrimp Stock
Never underestimate shrimp stock simply because it's surprisingly easy to make.
If truth be told, it's one of the most useful and versatile stocks that you can have in your refrigerator, especially if you are fond of cooking seafood dishes or trying out online recipes for them on a regular basis.
Proof that shrimp stock is handy and multipurpose?
Here are just a few of the things you can do with it:
1. Make bouillabaisse with a hint of sweetness
There is one very important ingredient when making bouillabaisse: fish stock.
But instead of using fish stock that you can easily buy at the supermarket, consider using shrimp stock in cooking this hearty traditional French fish soup. It's going to give the taste of bouillabaisse another dimension by adding a delicate briny sweetness to it, especially if you love yours hot and spicy.
Read Also: Why Shrimp is Good for You: 9 Reasons
2. Enjoy white wine-free shrimp scampi
Online, many sites suggest using chicken stock with a little lemon juice as a replacement for white wine.
Why use stock out of something that doesn't swim when you can opt for shrimp stock instead? Needless to say, shrimp stock as an alternative to white wine allows you to have the most delectable alcohol-free shrimp scampi. For superb results, consider increasing the amount of lemon juice you add to the popular Italian dish.
3. Have a more seafood-y shrimp and grits
A traditional dish and all-time favorite in the low country of the coastal Carolinas and Georgia, shrimp and grits taste rich and buttery. The dish is usually eaten for breakfast, but many love to have it at lunch and dinner, too. One of the ingredients in making shrimp and grits is chicken broth.
Since shrimp is the main ingredient, it doesn't come as a surprise that some recipes call for the use of shrimp stock.
4. Wow your guests with your version of paella
It cannot be denied that paella is arguably one of the most popular Spanish dishes across the globe. And if you want to serve paella the way it's enjoyed in Spain, the use of fish stock is a must. On the internet, however, many paella recipes involve the use of chicken stock, which is fine since the dish contains both seafood and meat.
But if you want to highlight the seafood ingredients, especially shrimp, using shrimp stock is a great idea.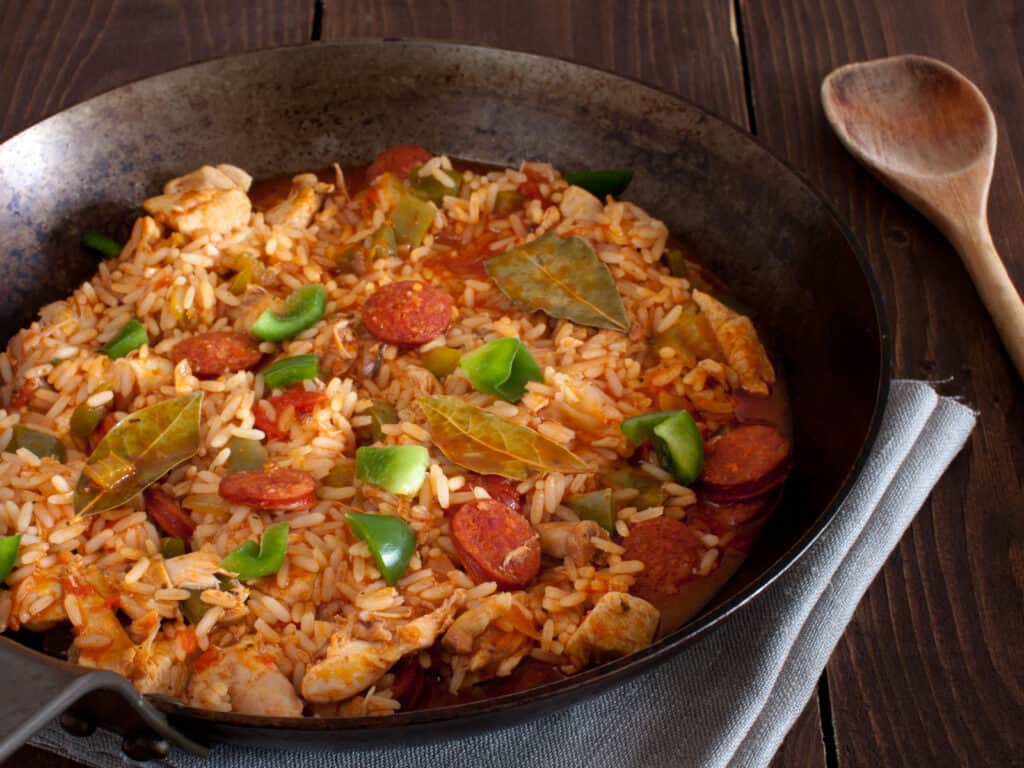 5. Surprise everyone with richer-tasting jambalaya
Born in Louisiana, jambalaya is one flavorful dish as it's inspired by flavors from various parts of the planet.
Believe it or not, you can make jambalaya with water alone. But many chefs and cooks suggest using either chicken stock or pork stock in order to add some depth and extra flavor to the already incredibly flavorful dish. Or you can use shrimp stock instead if you want to highlight the seafood element of jambalaya.
6. Make risotto with an even deeper flavor
When it comes to making the best-tasting risotto, it seems like the opinions of recipe makers are divided. Some say that all you need is chicken stock. On the other hand, there are also those who say mixed meat broth is the better option. But vegetable stock, some argue, tramples other stocks for making risotto.
If you don't want to take sides and hurt some people's feelings, consider using shrimp stock instead.
7. Cook pasta, noodles, and rice
The next time you make seafood pasta or noodle dishes, especially those that have shrimp as the star ingredient, steer clear of using just water in cooking pasta or noodles — add shrimp stock to it! This will infuse pasta and noodles with shrimp flavor, thereby making sure that the unmistakable flavor of the seafood is present in every mouthful.
Shrimp stock may also be used for cooking rice no matter if it will be topped with shrimp or any other seafood.
Just Before You Make/Use Shrimp Stock
You can turn peeled and deveined shrimp into all kinds of gastronomic masterpieces. On the other hand, you can turn shrimp shells into shrimp stock that can help make your kitchen creations more unforgettable!
Refrain from disposing of those shrimp shells the next time you are whipping out a delectable shrimp dish with your own hands — you can make shrimp stock from them, which can be used instead of vegetable or chicken stock. There's absolutely no need for those shrimp shells to go to waste and for your seafood dishes to taste ordinary.
Related Questions
Can you eat shrimp shells?
They may be hard and thus seemingly harmful to the digestive tract, but shrimp shells are actually edible.
In China and Japan, it's not uncommon for shrimp shells to be coated with cornstarch with salt and pepper and then deep-fried.
Adding shrimp shells to the diet provides the body with protein, healthy fats and minerals.
Read Next: How to Properly Eat Frozen Shrimp