Is Shrimp Scampi Good For You?
Shrimp scampi is a delectable meal many love to enjoy. With the creamy sauce and flat noodles, who wouldn't want to have shrimp scampi for dinner? It is delicious and easy to make, but the question is: is it good for you?
Shrimp scampi is good for you because shrimps contain antioxidants and healthy fatty acids. However, there is a variety of recipes to cook shrimp scampi, and often many of the ingredients aren't the best for your health. So how good the scampi is for you depends on how you cook the meal.
Many alternative recipes can make your shrimp scampi healthier and better for your body. Here are some ways that you can keep that taste while getting the benefits of a healthy meal.
Is Shrimp Scampi Good For You?
Shrimp scampi isn't necessarily bad for you. In moderation, you can live a healthy lifestyle and eat shrimp scampi with all the original ingredients. When you are highly active, carbs (from the pasta) are a wonderful source of energy.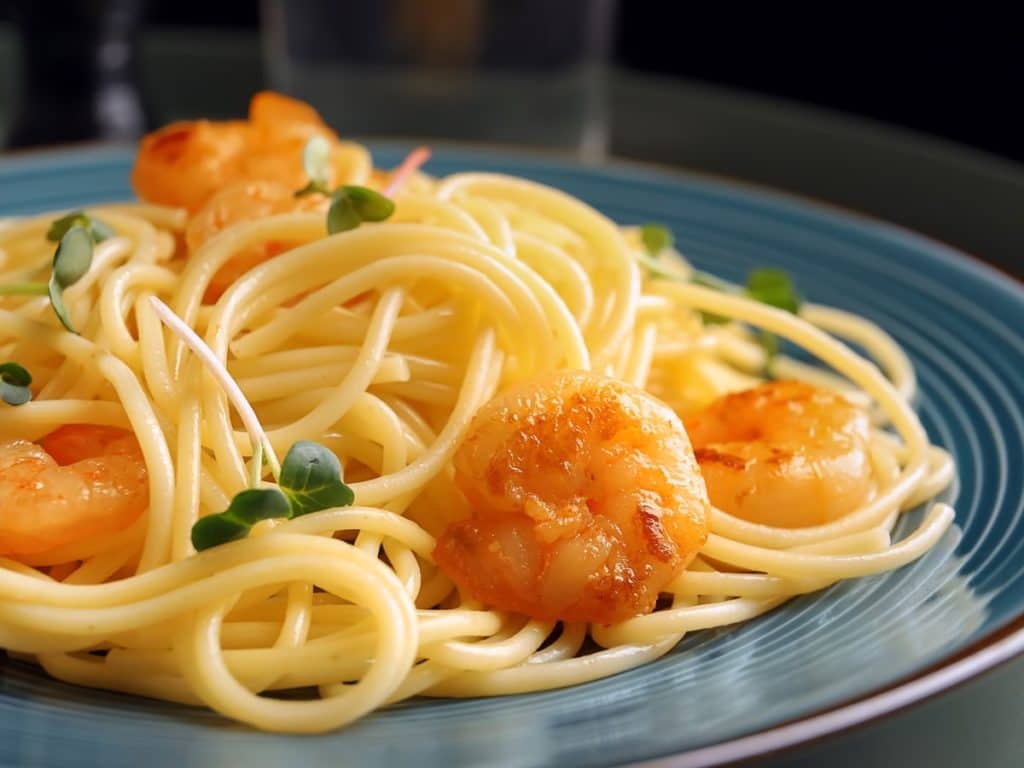 The Benefits Of Shrimp
Many benefits come with eating shrimp instead of chicken, beef, or pork. It is one of the healthier options in the meat selection.
Here are some of the benefits you will find by picking shrimp:
Shrimp contains antioxidants.
It is high in cholesterol (the good kind).
It is low in calories.
Shrimp is jam-packed with nutrients.
It contains healthy fatty acids.
It is a great source of protein.
If you have to choose between a meal with beef or shrimp scampi, shrimp is healthier. It has high protein, so you won't be missing out, and it has plenty of antioxidants as well as fatty acids to promote brain health.
With this food not only being low in calories, it will provide you with many of the nutrients your body needs. You don't have to worry about consuming empty calories.
Read Also: How to Steam Frozen Shrimp
How To Make Healthy Shrimp Scampi
The problem, though, is that shrimp scampi tends to be made with wine, butter, and pasta. Although these are not incredibly harmful to your diet, they may not be what you are looking for when trying to live a better, healthy lifestyle. But you don't have to give up your shrimp scampi entirely.
There are many ways you can keep the great taste of shrimp scampi while using a healthy recipe. You can do some of the following to get rid of the unhealthier ingredients and replace them with healthier ones:
Substitute the pasta.
Don't use wine.
Replace the butter.
Add more veggies.
Substitute The Pasta
The pasta is the first switch you can do to make your meal a little healthier. Carbs are not essentially bad for you. In fact, they are necessary for those who live an active lifestyle and work out at the gym, but for weight loss, you may want to exclude them.
You can first choose to substitute the pasta with wheat noodles rather than the typical white flour noodles. This will provide more fiber and is more natural, but if you don't want to eat these carbs at all, there are other options.
You can use zucchini or butternut squash noodles as a substitution to your noodles. These will provide the same great taste in your sauce while providing lower calories and more nutrients. You can make these noodles on your own, or you can even buy them pre-made.
Don't Use Wine
Wine can provide some good bacteria in your stomach, but its sugars add to the carb count. For a healthier alternative, you can choose vinegar instead of wine. Vinegar promotes good gut health and will cook similarly to white wine.
Replace The Butter
Butter can be quite fattening. You can choose lower calorie butter, but for the best replacement, choose olive oil. Olive oil is not only healthier because it does not contain as much fat as butter, but it also has been proven to reduce the risk of cancer and other diseases. Plus, you won't lose the great taste of your scampi with this substitution.
Add More Veggies
If any of these options are not for you or you just want to add more flavor, add more vegetables. You don't want to take from the flavor, and you don't want to overwhelm the recipe with too many vegetables. Here are some ingredients that compliment a scampi recipe:
Tomatoes
Broccoli
Mushrooms
Green beans
Spinach
Onions
asparagus
You can also add your favorite vegetables that you think add to the shrimp scampi. You may find that it tastes even more delicious and provides more nutrients for your healthy diet.
Conclusion
Shrimp scampi is a relatively healthy meal in general, but it is easy to make it even healthier for your lifestyle. You have many alternatives, so you can choose which one is best for your palate and diet.
Read Next: 16 Best Shrimp Substitutes