What's not to love about a jelly cake?
Jelly cakes were popular treats in the 1800s and are, some say, the precursor to today's frosted layer cakes. Thin layers of rich cake, accentuated by light jelly filling, can be prepared in all kinds of flavor combinations. It's easy if you know how.
Making a jelly cake involves selecting a good cake recipe and choosing a jelly flavor that compliments the cake. Bake as many layers as desired, spread them with jelly or jam, and then stack them into a cake. Spread more jelly on top.
Is your mouth watering already just thinking about tasting a delicious, homemade jelly cake? This how-to guide will show you the steps to take for making your own jelly cake.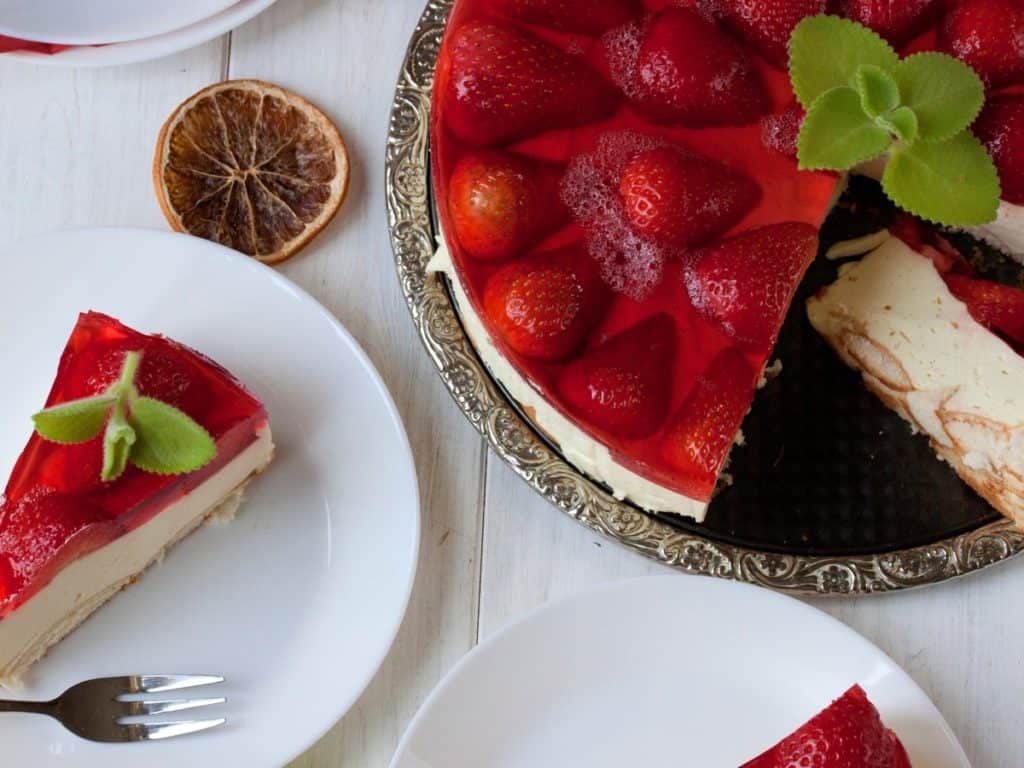 How to Make A Traditional Jelly Cake
Traditional jelly cake can include as many layers of cake and filling as you want.
Historically jelly cakes were baked in shallow round pans called jelly cake tins. If a cook didn't have these cake tins, they could cook the cake batter on a griddle like a pancake, but without flipping it.
After all the layers were "frosted" with jelly, they were stacked to create the cake and then topped with more jelly. The result was a tall and impressive cake with individually thin layers. Once baking powder became more readily available, cake layers grew fluffier and fewer layers were needed. Jelly cakes lost their popularity over the years.
Fortunately for us modern bakers, the jelly cake is still a versatile and straightforward dessert that has a place in every recipe box.
Start with a Good Cake Recipe
Unlike jelly rolls which are made with a light and airy sponge cake, traditional jelly cakes should be based on a rich, weighty cake recipe. Pound cakes or basic yellow cakes are substantial enough to handle the jelly filling and topping without letting it soak all the way through each layer.
Classic pound cake with lots of flour, butter, and sugar is a good place to start. If you prefer a cake that requires less work, go for the basic yellow cake recipe. For flavor variety, you might consider chocolate cake or white cake instead.
For the quickest way to make a jelly cake, use a store-bought cake mix available in various flavors.
Choose a Jelly Flavor
You can use any flavor of jelly you prefer. There are classic jelly cake combinations that are worth a try, though. They've stood the test of time to become traditional favorites:
Pound cake with apple jelly
Yellow cake with apricot jelly
Chocolate cake with raspberry jam
White cake with strawberry jelly or jam
Other jellies or jams to think about are blackberry, grape, orange, blueberry, and cherry.
Gather the Ingredients
Every cake recipe needs certain basic ingredients that are pantry staples in most kitchens. Depending on the actual recipe you're using, you may also need additional items. Before you get started with the jelly cake, make sure you have these ingredients on hand:
1 teaspoon salt
3-1/3 cups sifted flour, preferably cake flour
Dash of baking soda
1-1/2 teaspoons baking powder
1 cup (2 sticks) plus 1 teaspoon butter, softened
2-2/3 cup sugar
1/2 cup vegetable oil
4 eggs, beaten
1 cup milk
3/4 cup confectioners' sugar
1-1/2 cups (one 12-ounce jar) strawberry jelly, or blackberry or raspberry jam
Prepare the Pans
To make a jelly cake, you need to have at least two 9" round cake pans. If you plan to bake a lot of layers, it's better to have more pans to cut down on having to wash and reuse pans multiple times.
Cake pans should always be generously greased and floured before the batter is added.
Mix and Bake the Cake Layers
Heat the oven to 325° F, and grease and flour three 8-inch or two 9-inch round cake pans.
Combine the salt with about 2-2/3 cups of the flour in a medium bowl, and stir with a fork to mix well. Combine the baking soda, baking powder, and the remaining 2/3 cup of flour in a small bowl, and stir well.
Cream the butter, sugar, and oil with a mixer at medium speed until creamy, with no gritty signs of sugar. Add the eggs, beating for 1 to 2 minutes. Stir in the flour-salt mixture in 3 batches, alternating with the milk.
Gently fold in the flour-baking soda-baking powder mixture, and stir just until the flour disappears.
Pour into the prepared pans. Bake at 325 degrees F for 35 to 30 minutes, until the cake is golden brown and springs back when touched lightly in the center.
Cool in the pans on a wire rack or a folded kitchen towel for 10 minutes. Then turn the cakes out onto wire racks or plates, and place them top side up to cool completely.
Cake layers should be allowed to cool completely before adding the jelly filling.
Put It All Together
Once the layers have cooled completely, it's time to assemble the jelly cake. For the jelly filling, jelly can be used straight out of the jar or mixed with confectioners' sugar for added depth of flavor.
Lay the cake layers out separately on wax paper.
Using a knife, spread the jelly filling thickly over each layer.
Once each layer is jellied, stack the cake layers on top of each other to form a whole cake.
Spread additional jelly on top of the cake and allow it to run down the sides. Do not try to actually "frost" the sides of the cake.
Conclusion
A jelly cake is an easy dessert that looks impressive and tastes delicious. With the plethora of jellies and jams available in the stores and plenty of cake recipes to choose from, you can create any number of unique flavor combinations.