Ten Best Foods to Pair With Gluhwein
In Germany, the arrival of the winter chill means one thing: steaming mugs of Gluhwein! Traditionally available in Christmas markets across Europe, this spiced wine (mulled wine or glogg to some) is served in ceramic cups. However, it is just as loved during friends and family gatherings over delicious plates of food.
Now, full disclaimer: you do not necessarily NEED to have food with Gluhwein. With fall spices, citrus rinds, and sugar, it is often enjoyed on its own, post-dinner, or on shopping escapades.
However, there are no rules when it comes to the festive season (and officially no calorie counting), and some foods pair exceptionally well with the bold, spicy, fruity flavors of Gluhwein.
Whether it is a post-dinner meet-up or a festive spread at your place, the following ten foods complement the spiced wine's strong and bright flavors. Come find out the perfect Gluhwein food pairings for the most-memorable get-togethers.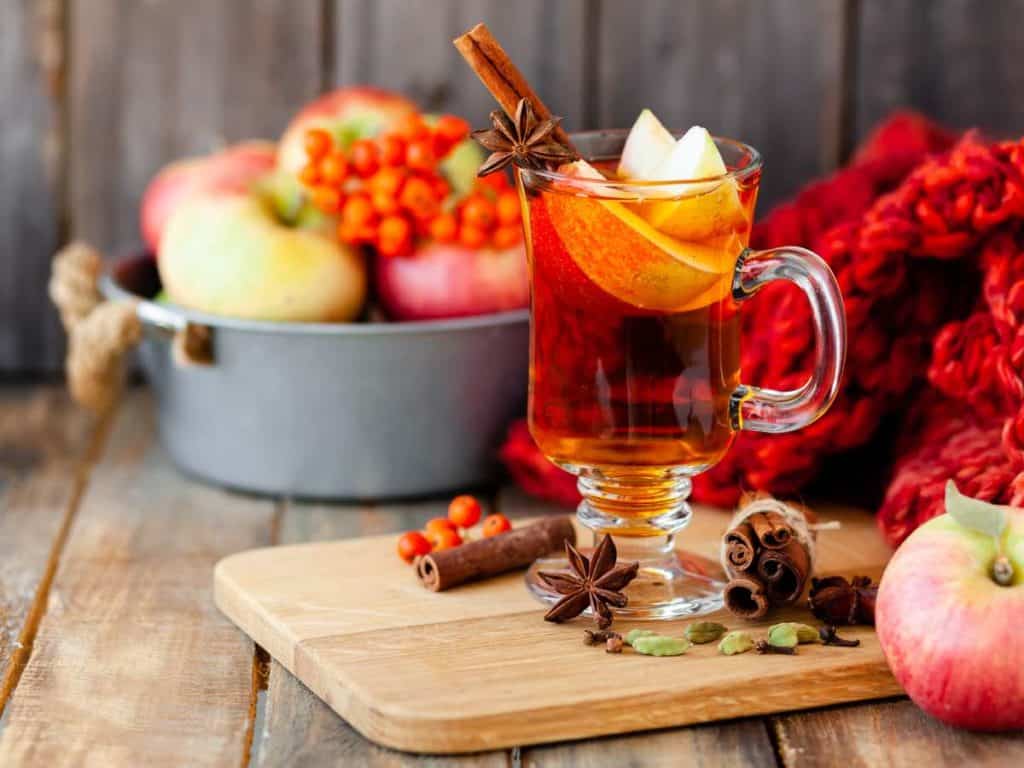 10 Food Pairings That Go Extremely Well With Gluhwein
Gluhwein is usually made from a dry red base, adding sugar, citrus juice, citrus rinds, and spices like cinnamon, cloves, and star anise.
Thus, it is a drink with a lot of character, and light foods can easily be lost in its flavor. Therefore, anything rich and creamy goes exceptionally well with Gluhwein to help cut the boldness.
Whether you are looking to serve snacks, a proper dinner, or dessert accompanied with Gluhwein, our list of 10 best food pairings with this winter-favorite features something for everyone.
1. Roasted Meats
This one is a no-brainer! Since Gluhwein is primarily a festive drink, it naturally goes well with roasted meats and vegetables served over Christmas dinners. The high-fat content of such recipes creates the perfect balance when paired with spiced wine.
Even served in sandwiches the next day, the leftover slices of meat are just as enjoyable with Gluhwein. Moreover, glazed ham is also featured on foods that go well with this hot drink.
The only rule when serving food with Gluhwein is to present something with bold flavors to stand up to the richness of Gluhwein.
2. Festive Mince Pies
Gluhwein is famous across Europe with different names. The British know it better as mulled wine. Since there is no rigid recipe for Gluhwein, you can make it in several ways, adding various spices and fruits to change its flavor profile.
However, the basics remain the same: it's a dry red wine base with fall spices and fruits, so it's rich, sweet, and fruity. Hot spiced wine is paired best with sweet and savory mince pies in Britain – a traditional festive treat.
Mince pies are served during Christmas. The sweet, fruity, and spicy flavors of mincemeat, enclosed in a melt-in-your-mouth pie crust, is the perfect recipe to have with Gluhwein.
The complementary flavors of the pie and the wine sing together and are deep-rooted in history – what's not to love?
3. Cheese (Especially Blue)
Do we even need to explain this one?
The creaminess of the cheese is THE antidote for the citrusy and sweet taste of Gluhwein. Of all the foods on our list, if there were one we have to pick to serve with spiced wine, it would be this! Cheese is delicious with SO many options to choose from.
However, since Gluhwein takes on the flavor of spice and has added sugar, cheeses on the saltier side work the best with it. Think of heavy, creamy cheeses, aged cheddar, and strong blue cheeses, something that can hold its own against the bold flavors of Gluhwein.
Some top Blue Cheese choices would be Blue Stilton, Roquefort, and Gorgonzola. Blue cheeses are salty and sharp, entirely on the other end of the spectrum from the sweet and fruity flavors of Gluhwein. This contrast of flavors works magically without being overwhelming.
Other good choices would be soft cheeses like camembert and brie. We love these options because of the many ways you can serve them. These can be devoured both hold and cold, and the Gluhwein can help cut the creaminess of both brie and camembert.
An additional tip would be to heat these cheeses with herbs and white wine to add more depth to their flavor, which can work well against the sweet and spicy notes of hot Gluhwein.
One way to serve both blue and soft cheese is to use a charcuterie board. Moreover, you can add fruits, nuts, crackers, and cold cuts (many of which feature in our list) to the board to further add dimensions and various flavorings to the snacks you serve with Gluhwein.
4. Fondue
Melty, gooey, cheesy goodness – you do not need an excuse to enjoy cheese fondue in winter. And, what's better if it makes Gluhwein taste that much better. Typically enjoyed with white wine, cheese fondue's creaminess works just as well with Gluhwein too.
Cheese fondue combines a variety of swiss cheeses that present a slightly sweet and nutty yet savory flavor. Moreover, the oozing quality and creaminess perfectly neutralize the taste of Gluhwein.
Additionally, the subtle sweet notes of the cheese fondue heighten the already sweet wine while mellowing its bold flavors with its complexity.
Now, there is no limit to what you can plate up to dip into a melting pot of cheese! While we will talk about our favorite dippers, make sure to get creative and choose whatever you like.
Better yet, ask your guests and take their preferences into account. Then, all that's left to do is dunk your favorite treats into the fondue and enjoy it with hot Gluhwein. We can think of no better way of spending a chilly evening.
If you are looking for ideas, you can serve up bread, meatballs, favorite vegetables, crispy potatoes, apples, and sausage.
Now, you may think, why did we not talk about fondue when we mention cheese on the list. That's because it's not only cheese fondue that you can serve with Gluhwein; chocolate fondue works just as brilliantly.
What's even better is that serving up chocolate fondue is so simple, yet it screams effort! All you have to do is put together a tray of seasonal fruits (bananas and strawberries are winners, always), some crackers, and other favorite sweets!
Voila!
When serving up chocolate fondue with Gluhwein, the only thing to remember is to consider the already sweet spiced wine. Thus, a better choice of chocolate would be semisweet or dark rather than milk chocolate (more on this below).
If you cannot tell by now, we love fondue! Whether it is the gooey amalgamation of swiss cheeses or the decadent molten chocolate, fondue is really the king of party foods. Not only is it great to share with friends over mugs of Gluhwein, but it also is fun.
Good food, good times, and a steaming hot cup of Gluhwein – yum! Sign me up!
5. Dark Chocolate
We have already discussed how dark chocolate fondue will be the best choice to serve with Gluhwein, owing to its bittersweet taste.
However, any dark chocolate-based dessert will do well to counter the fruity sweetness of mulled wine. Dark chocolate brownies, salted dark chocolate tart, or triple dark chocolate cookies will all pair well with Gluhwein.
Dark chocolate and red wine are already a proven food pairing. Since Gluhwein also traditionally uses a dry red wine as its base, it goes well with it, too – despite adding spices and sugar.
However, our favorite dark chocolate dessert to pair with Gluhwein is dark chocolate ganache truffles. You can make them beforehand; they look great on a charcuterie board and can be dunked in chocolate fondue – a real Gluhwein party showstopper.
Many people are surprised how easy it is to make truffles at home because they look (and taste) so good. All you need are three ingredients. Go for the good quality stuff as there is nowhere to hide in this recipe from the Sweetest Menu.
Take 200 gms of dark chocolate and chop it into a heatproof bowl.
Heat 120 ml of cream in a saucepan, but do not let it come to a full boil. Pour the cream on top of the chocolate and leave it for three to five minutes. Whisk and make sure the ganache is smooth.
Transfer the ganache to a new bowl; plastic wrap and refrigerate for 2 hours until the ganache is set. Use a small ice cream scoop to drop small balls of the set chocolate ganache in sifted cocoa powder (placed in a separate bowl) and roll the truffle balls into shape.
Place in the fridge until ready to serve!
Wasn't that easy?
However, any of your favorite dark chocolate desserts will work. But something that can be passed around is always a winner at get-togethers.
6. Pickled Fish/ Vegetables
Spiced wine is a famous hot drink during Christmas time in various other European countries.
For example, in Scandinavian countries, the traditional food to serve with Gluhwein (or their mulled wine rendition) is often fermented – be it fish or vegetables. The acidity in fermented food pairs nicely with the sweetness of Gluhwein.
A perfect Guhwein party snack would be open-faced mini bagels topped with cream cheese, lox, and capers. This snack has just the right amount of creamy and tart notes to bring out the best in the fruity spiced wine. The food and wine balance each other out for a rather enjoyable experience.
You can also serve caviar with cream cheese with spiced wine.
7. Seasonal Fruits and Berries
Always keep something fresh in the mix when serving food with Gluhwein and what could be better than seasonal fresh fruits. They are readily available, take almost no work to plate up, plus they go so well with so many things.
You can serve seasonal fruits with fondue (chocolate and cheese), add them to a cheese board, or plate them independently. What's more, they are a healthier food option to add to your spread.
Some good choices would be apples, cranberries, and pear. These sweets and tart fruits bring out the flavors in Gluhwein and work well with the sweet and spicy notes in the wine.
8. Gingerbread Cookies
Gingerbread cookies are a Christmas favorite, just like Gluhwein, so it makes sense to pair them together.
However, that's not all – the flavors complement each other too, which is why spiced wine goes better with these chewy biscuits than any other Christmas-special treat. The molasses and the spices (similar to those in Gluhwein) make this a pairing made in food heaven.
9. Fried Food, e.g. Schnitzel
Deep-fried food (cheese or meat) is notoriously rich and just the kind of thing you want to have with a sweet and spicy hot drink, like Gluhwein.
Schnitzel is an excellent option and quite a famous pairing in German. It is often served with lemon crema to counteract the often overpowering flavors of Gluhwein.
If you want to deviate from the traditional offerings, fried mozzarella sticks and chicken tenders work great.
10. Roasted Nuts
Simple salted, roasted nuts are made for Gluhwein. The richness and saltiness work wonders against Gluhwein flavors. Plus, they are so easy to serve and pass around during a party. If you don't want plain old salted flavor, you can go for fancier options like bbq and herb-flavored nuts.
Some people also like to add pickled walnuts on top of blue cheese to add texture and flavor.
Final Thoughts on Gluwein Food Pairing
There you have it!
Ten food options to enjoy with Gluhwein with family and friends or on your own. While cheese, nuts, and fruits remain the favorites to serve up with Gluwhein, there are so many other options to explore.
When picking out what kind of food you want to pair with the spiced wine, think of the flavors (sweet, spicy, and citrusy with a dry red base) and go for options that will not get lost or add too much to the sweetness of the wine.
For snacks, go for nuts, some dark chocolate bites or easy-to-serve desserts, blue or soft cheese, fruits, and cookies. If you are hosting a dinner, you can always choose rich and creamy dishes like roasted and deep-fried foods. Alternatively, you can set up a cheese board with all your favorite treats and enjoy a cup of Gluhwein.
Read Also: What Do Blush Wines Pair Well With