What Food Goes With Beaujolais Nouveau?
The Beaujolais Nouveau is a wine of intense fruitiness, and it has a slightly higher sugar content than most other wines. It also has a low tannin and acidity level. These factors make the wine more versatile than many other red vintages, which is why this wine pairs so well with a variety of food.
The food that goes with Beaujolais Nouveau includes both sweet and salty flavors. It also goes well with acidic foods or those with a creamy texture. This wine has very low tannins to pair with fish and shellfish, pasta, turkey, duck, chicken, quail, pork, and vegetables.
This article discusses the food types that go well with Beaujolais nouveau and why they make a perfect pair.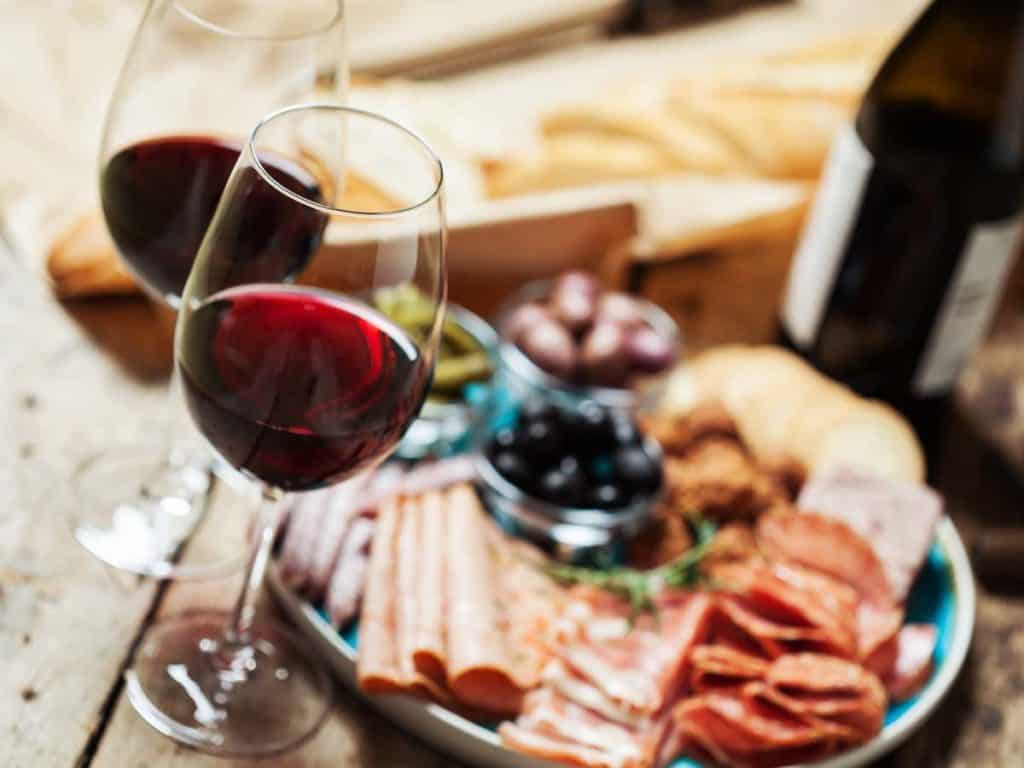 What Pasta Pairs with Beaujolais?
Pasta is hearty but light enough not to overwhelm the wine. The secret to a beautiful pairing is not about the shape of the pasta but the sauce used to make the pasta dish.
The Pasta that pairs with Beaujolais include those that are made with pomodoro-style sauces. When choosing a pasta dish to serve with Beaujolais nouveau, look for one that is not too heavy. Sauces should be light and vegetable-based to balance out the fruitiness of the wine.
Here are some pasta dishes that pair well with Beaujolais:
Pumpkin Ravioli – The earthy fall flavors of the pumpkin ravioli pair perfectly with Beaujolais Nouveau. The slightly sweet wine is an excellent contrast to the savory filling and nutty sauce.
Fettuccine Alfredo – Fettuccine Alfredo is a classic Italian pasta recipe that's very rich in flavor. It's made by combining butter and cheese into a creamy sauce, then tossing it with pasta. The creamy yet light taste of this dish balances out the fruitiness of the wine.
Macaroni and Cheese – This light, fruity red has a perfect balance of acidity and tannins that match the richness of the cheese sauce in the mac 'n' cheese.
Spaghetti Bolognese – A traditional bolognese sauce uses a combination of herbs and spices to create the rich tomato flavor characteristic of this dish. The Beaujolais nouveau, with its sweet fruit notes and acidity, complements the sauce's richness perfectly.
Pasta Primavera – If you want a healthier pasta dish that still pairs well with Beaujolais Nouveau, consider making a pasta primavera dish. This dish typically features fresh vegetables like cauliflower, zucchini, tomatoes, and peas. These flavors bring out the best in Beaujolais Nouveau, known for its cherry notes.
Pairing Beaujolais Nouveau With Poultry and Meat
Beaujolais Nouveau pairs well with light-bodied poultry like turkey, chicken, quail, pork, and duck. The Beaujolais complement the turkey's crisp skin, dark meat, and white meat. Chicken is also a good match because it has white meat and dark meat. Additionally, the rich flavor of duck combines well with the Beaujolais' fruity flavor.
Because it is a young wine and has very little tannin, it tastes light and fruity, with flavors of white cherry, black cherry, red currant, spice, and pepper. It offers just the right amount of acidity to balance the fat from meat or poultry. Here are the types of meat and poultry that pair well with the wine.
Beaujolais Nouveau pairs nicely with sauced chicken dishes or marinated in red wine, soy sauce, or vinegar. The tartness of the Beaujolais complements the chicken perfectly. It also pairs well with chicken dishes that have a variety of spices and herbs in the recipe, such as rosemary and thyme.
This pairing works because the poultry adds a little weight to the lightness of the wine, while the wine helps break down the fattiness of the meat.
Quail is also an excellent choice to be paired with this wine. A great quail pairing with Beaujolais Nouveau is to prepare a dish of breaded quail paired with a fresh and delicious Beaujolais Nouveau.
The flavor of quail is milder than turkey or chicken, but its mildness makes it a good match for Beaujolais Nouveau's fruity flavors. The quail's tender meat will absorb some of the wine's acidity while still allowing its fruity notes to shine through.
Is Beaujolais Good with Turkey?
Beaujolais Nouveau is good with turkey, but it may do better with a medium-bodied red wine like Beaujolais Villages. This wine is light enough that it won't overpower your turkey but has enough structure and acidity that it can complement all of the other flavors you've put on your plate.
Another great reason to pair turkey with Beaujolais is that they are harvested around the same time of the year. It's like pairing them because they are both in season simultaneously.
Is Beaujolais Good with Duck?
Beaujolais is good with duck because it is a rich red meat that pairs well with a fruity red wine. The bright acidity of the wine complements the duck perfectly.
You don't need to be a gourmet cook to make the perfect duck to go with your Beaujolais — sear the breasts and serve them with sauteed greens.
Is Beaujolais Good with Pork?
Beaujolais is good with pork because the juicy, fruity characteristics of Beaujolais Nouveau make pork an ideal accompaniment. Pork pairs well with fruit and herbs, and many producers try to emulate the flavor profile of their wine in the food they are pairing with it.
In this case, meat that has been marinated in sweet fruits or herbs will bring out some delicious flavors in your glass.
Pork tenderloin is delicious because it has a mild flavor and can be prepared with various sauces that complement Beaujolais Nouveau.
Pairing Fish and Shellfish With Beaujolais
The Beaujolais Nouveau is often paired with fish and shellfish as they have an almost salty flavor. They all have fresh flavors that complement each other without overwhelming or clashing. You can't go wrong with shellfish and fish; they all infuse nicely with this light fruity red wine.
Oysters make a perfect pairing if you like them with a squeeze of lemon or mignonette sauce. The fresh acidity in the wine will complement the briny quality of the oysters, and the two together will make for a refreshing bite. If you're feeling decadent, try adding a dollop of caviar on top to take it over the top.
Try the classic mignonette sauce that combines vinegar, black pepper, and shallots if you have oysters. This sauce will pair perfectly with Beaujolais nouveau.
Additionally, lobster and Beaujolais nouveau pairing is a classic combination. The buttery sweetness of lobster brings out Beaujolais nouveau's fruitiness, and Beaujolais nouveau's earthiness complements the salty taste of lobster. Try this pairing when eating your next plate of broiled lobster.
When cooking your lobster, add some Beaujolais to your stock. This will add an extra dimension to the dish and make it even more delicious than it already is.
Are Mussels Good with Beaujolais?
Mussels are good with Beaujolais because they are earthy and salty, so they pair well with lighter red wines with high acidity and light tannin. This might sound counterintuitive, but white wine can overpower the flavor of mussels because it is usually acidic and sweet.
Mussels are an excellent pairing for Beaujolais Nouveau because the wine will cut through the oiliness of the mussels and bring out their sweet, salty taste.
Is Crab Good with Beaujolais?
Crab is good with Beaujolais because its fruit complements the crab meat's sweetness and juiciness. Its medium tannins also contrast nicely against fatty crab meat.
Dungeness crabs are a perfect match for Beaujolais Nouveau because they're light and sweet and have enough umami flavor to cut through the acidity of the wine's fruitiness.
It's not recommended to steam crab using Beaujolais because the crab would lose the delicate flavor of the wine in cooking, but it's a beautiful choice to enjoy alongside crab cakes or crab legs.
Are Scallops Good with Beaujolais?
Scallops are good with Beaujolais, and they tend to pair well with an extensive range of wines because they are sweet and creamy. The tannin in red wine also gives it more "chew," which is often needed when eating scallops on the half shell.
Scallops with garlic, chile, and lime are the ideal go-to appetizer for Beaujolais Nouveau.
Scallops are sweet, so they balance the tartness of the wine. They are also rich, which makes the wine seem lighter.
Is Tuna Good with Beaujolais?
Tuna is good with Beaujolais, although tuna is often considered to be a bad choice with red wine. This is because red wine, generally, has more tannin than white wine. However, the magic of tuna and Beaujolais nouveau combines fruitiness and acidity found in both.
The wine brings out the sweetness of seared tuna while balancing its fattiness, while the fish provides a welcome contrast to the wine's light body.
The key is to use the best quality tuna you can find (and it doesn't have to be the most expensive) and cook it rare.
Are Seafood Spreads Good with Beaujolais?
Seafood spreads are good with Beaujolais Nouveau. The trick is to match the weight of the food with that of the wine — in this case, light and fresh. The tannins found in most red wines can overwhelm the delicate flavors of fish, but Beaujolais's lack of tannin allows the flavors to come through.
The low tannin content of Beaujolais Nouveau makes it the ideal red wine to pair with lighter fish dishes, such as baked salmon or seared tuna steaks.
Pairing Cheese With Beaujolais Nouveau
The fruity sweetness of the Beaujolais Nouveau also makes it the perfect complement to soft semi-hard and hard cheeses. These types of cheese are already quite sweet on their own, making them an excellent match for this wine.
Beaujolais Nouveau has enough flavor and tannin to hold up to more flavorful hard cheeses like cheddar, gouda, and parmesan. The wine's fruit flavors will also complement these cheeses' saltier notes.
Another beautiful pair is with semi-hard cheeses that are less intense than hard ones but still have plenty of flavors. Beaujolais Nouveau won't overwhelm creamy soft cheeses like goat cheese or brie (which already pair well with fruit) if you want to go the soft cheese route.
You might find that you prefer these cheeses on their own or with crackers rather than in a sandwich because they'll complement the fruity taste of the wine. Here's a list of hard, soft, and semi-hard cheeses to pair with the wine:
Mimolette
Leicester
Monterey jack
Comté
Mimolette
Cantal
Edam
Swiss
Brie
Manchego
Feta
Vegetables Which Pair Well With Beaujolais Nouveau
The earthiness of vegetables complements the fruitiness of the wine. Beaujolais Nouveau pairs well with root vegetables because the earthiness of these vegetables complements the fruitiness of the wine. Here are some vegetable-based dishes that pair perfectly with your bottle of Beaujolais nouveau:
Butter-Braised Root Vegetables
Butter-braised root vegetables are another fine pairing. Toss carrots, parsnips, and turnips in butter, and add just a bit of lemon juice, salt, and pepper to bring out the tanginess.This hearty dish will make you feel like you're eating meat without consuming any meat.
Vegetables like turnips, beet, and carrots pair well with Beaujolais nouveau because the sweetness of the wine balances out their earthy flavor.
Sweet Potatoes and Potatoes
These orange tubers are very versatile. They can be baked or roasted and serve as a side dish and an entree. Sweet potatoes pair exceptionally well with Beaujolais because they are full-bodied and have similar taste profiles. This combination is particularly delicious when served over rice or mixed with other vegetables, carrots, and brussels sprouts.
Roasted red potatoes pair nicely with Beaujolais Nouveau. Roast some red potatoes in olive oil, salt, and pepper until they are crispy on the outside and soft inside.
Brussels Sprouts
Brussels sprouts have a distinctive taste complemented by flavors of equal intensity, richness, and complexity. Add a handful of chopped walnuts to roasted brussels sprouts before serving. The sweetness of the sprouts, the crunch of the nuts, and the spice of the Beaujolais provide a warm, comforting experience on a cold winter night.
Mushrooms
Serve your favorite mushrooms sautéed with garlic alongside your Beaujolais Nouveau. The earthy notes in the wine will complement the umami flavors of the mushrooms. If you have more time on your hands, try making some mushroom risotto with your Beaujolais Nouveau.
The earthiness of mushrooms will bring out the freshness of the wine and make it taste even better than it already does.
Conclusion
Beaujolais Nouveau is lighter and more delicate than the typical red wine people drink. Pair Beaujolais Nouveau with a dish that complements the wine's light and intensely fruity quality, such as shellfish, fish, pork, poultry, pasta, or a light vegetable dish.
Remember that the key is not to overpower the wine or make the pairing too heavy. If you're trying to pair for someone who doesn't have a sophisticated palate but still wants to enjoy wine, this would be an excellent choice because it's light and fresh so that the wine won't overpower them.