Dehydrating Food Without A Dehydrator [Air Fryer, Smoker, Pressure Cooker, Convection Oven]
Food dehydrators are devices that can remove moisture from food to enhance its preservation while retaining the nutritional value.
It is a great way to preserve many fruits and vegetables that are perfect for snacking and ideal for campers.
Besides, dehydrating foods can bring out the best flavor in herbs while keeping them around during their offseason.
However, dehydrators are big and chunky, and costly, especially for an appliance you rarely get to use. That's why not every homeowner has this kind of device in their household.
No worries, since there are still other ways on how to dehydrate foods without the use of dehydrators.
How Food Dehydrator Works
Just a recap, a dehydrator is an electrical machine that dissipates the moisture content of whatever is inside. It comes with trays, heating elements, vents, and fans for circulation.
The dehydrator's heating element can raise the temperature inside the machine, which evenly circulates the heat. This removes moisture while the trays hold the food you wish to dry.
Of course, the use of dehydrators in actual use goes into many details. You just can't cut your food, toss them in the machine, shut the door, and say work!
Well, those details are too far from their actual use.
Dehydrators comprise a temperature scale that you need to know which temperature settings are the most appropriate for each food.
In fact, there are timetables for how long you need subject-specific food to get the perfect hydration.
There are many dehydration machines out in the market, so you need to know what to look for and what to avoid.
Related Post: How to Eat Dehydrated Food
Heating
The heat of the dehydrator pulls the moisture from the contents inside. It is achieved by applying low temperature and long cooking times.
This process is the best removal process as it preserves the nutrients and flavors of the food.
Meanwhile, high heat cooking can zap out the nutrients value of food and induce potential char flavors of the food itself.
The main reason we use a dehydrator is that we can get delicious treats from the machine while keeping the nutritional content.
But another major reason is that it works excellently to preserve the food we place inside the device.
In addition, its ability to remove the moisture from the content can keep bacteria and molds from growing on the food. In short, dehydrators can remove all the stuff that can spoil the food.
The bananas lying on your kitchen tops can last for months, thanks to this amazing application.
Heat
Lastly, the heat of this machine's product works perfectly on herbs and spices — no need to throw away your fresh herbs after getting soggy in just a few days.
Since herbs and spices contain very high moisture content, they are prone to attract bacteria and mold.
Hence, the use of a dehydrator to dry herbs and spices will give long-lasting use from our harvest/crops or purchases.
When talking about dehydrators, the heating element plays a huge role, but it does not end there.
Once the heat removes the moisture within the machine, the moist air is going to hang around within the machine, thus reabsorbed by the material being dehydrated.
Just think about steaming veggies. Therefore, there is still one significant component that needs to be considered when working with air circulation.
Air Circulation
Air circulation works by taking the moist air that the heating elements pull from the food inside and then coordinating with the vents of the dehydrator to get it out of the machine.
It helps the food reabsorbing the moisture it just lost.
On top of that, the dehydrator also pulls the dry air from the outside of the machine to the inside to ensure the content is in a moisture-free environment and undergoes the thorough process of dehydration.
Besides, the fans that create the air circulation also make sure that it disperses the heat within the machine on every item inside the dehydrator.
A good quality machine is not going to super dry a few items, leaving other items still wet. Besides, it will make a batch of equally dehydrated and superb treats.
Related Post: A Beginner's Guide to Dehydrating Food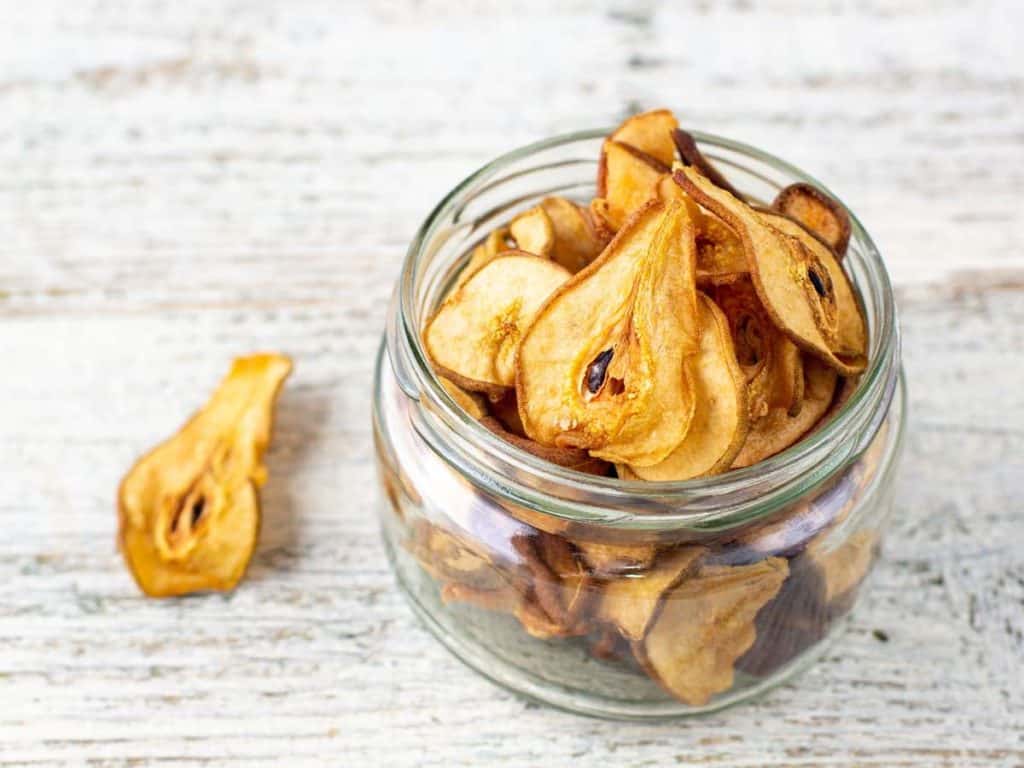 Food That is Easy To Dehydrate
Stuck for ideas?
Here is the list of foods you can dehydrate in your kitchen.
Meat. Make thin slices of meat and then coat the beef. All you have to do is bake it at a low temperature for 3 to 4 hours, and then you have your homemade tasty beef jerky.
Bananas. You can make tasty banana chips with the use of leftover overripe bananas. Slice bananas and then coat them in lemon juice. Bake for around 3 hours at the lowest temperature.
Vegetable Crisps. Cut leftover veggies into uniform slices, season, and then dehydrate at the lowest temperature for around 4 hours. You can use any vegetables such as potatoes, mushrooms, turnips, kale, and even tomatoes.
Seasonal fruits. Keep the summer with you by dehydrating seasonal fruits such as melons and mangoes. Just like other foods on the list, slice, season, and dehydrate at the lowest temperature.
Dehydrating Food In An Air Fryer
Air fryers work like a convection oven, wherein it circulates the air, making sure that the heat is evenly distributed throughout the food.
It results in food with an even texture and cooking all throughout. It makes the food to be cooked and crisp at the same time because of the hot air that dries any surface moisture.
Differences Between Air Fryer And Dehydrator
Air fryers and dehydrators both circulate the air for even heat distribution; however, there are some differences, which enables you to distinguish them.
Air dryers work at a high temperature to allow the food to get brown and crispy quickly.
Meanwhile, a dehydrator does not cause a color change to happen, it works more at a mild temperature, usually between 40 to 42 C. It allows the food to dry without being cooked or using too much heat.
Because of the difference in operating temperatures, an air fryer takes only 5 to 30 minutes to fully cook, while a dehydrator can take a couple of hours or days for it to complete its drying process.
How To Use An Air Fryer As A Dehydrator
It is possible to use air fryers in replacement of dehydrators since their functions work in a similar way by evenly heat distribution. However, it is also essential to know how it works as a dehydrator.
First things first, the air fryer needs a low-temperature heat setting. Any higher than 45 C, the food will start to cook instead of rehydrating, which is not the right way to preserve it.
A good air venting system is also important since the water needs to be released. If the water is trapped and contained in the unit, the condensation will happen, and the food will just reabsorb the moisture.
A simple reminder, it is best to use either a steam rack or shelf whenever you use an air fryer for rehydration. This allows the air to circulate underneath the food, not just on the top.
Ideally, the air fryer needs to have sufficient space so that you can thinly spread out the food. Otherwise, you need to do it in smaller batches since if everything is too clustered, they will not be dehydrated evenly.
Lastly, make sure that the air fryer can withstand long usage since it will work for long hours, instead of the usual 15 to 30 minutes.
Best Air Fryers For Dehydrating Food
Here are some of the best air fryers that can be used to dehydrate foods:
Instant Vortex Plus Air Fryer Oven
This air fryer is one of the popular brands on the market right now. This device comes in different sizes with seven pre-programmed cooking techniques, which include air frying and dehydration.
It features overheat protection that reduces the risk of burn foods, and when in standby mode, it displays the off, for peace of mind.
Pros:
Comes with 14 simple touch controls and displays
Includes different accessories
Removable parts are dishwasher-safe
Cons:
The basket at the bottom is not secured
The Ninja Air Fryer
This air fryer is very popular online and can be seen with a great number of positive reviews. Now you can enjoy guilt-free food that creates flat, chip-like dehydrated foods for homemade snacks.
The unit is designed with a 4-quart ceramic-coated nonstick basket and crisper plate fit.
Also, it provides a wide temperature range of 105 to 400 F, so you can gently remove moisture from foods or quickly cook the food using convection heat.
Pros:
Nonstick and easy to handwash
Comes with 9 function buttons
Made from stainless steel
Cons:
Inaccurate food cooking suggestions
Dehydrating Food In A Convection Oven
Convection ovens are more efficient at a lower temperature than gas and conduction ovens.
It makes them suitable for dehydrating because the temperature ranges for dehydrating food are below 160 F. Thus the fan helps to circulate the air evenly around the food as it dries.
So if your oven comes with an electric plug and has a fan at the back without a coil at the bottom, confirm, you have a convection oven.
Differences Between Dehydrator And Convection Oven
First off, ovens are designed to cook hot, while dehydrators cook under minimal heat. Even in the warm setting, the oven works at about 275 F.
In a nutshell, here is the difference between a dehydrator and a convection oven:
Dehydrator
It does not kill enzymes
Distribute heat evenly with proper airflow and temperature
It effectively pulls moisture out of the food for optimal drying
Minimal supervision is required
Works for longer hours
Convection oven
Even at the keep warm setting, the temperature is still high
It kills vital food enzymes
Most ovens does not have an air-circulating fans
Expensive to run
Requires supervision
How To Use Convection Oven As a Dehydrator
You do not necessarily need a food dehydrator to dry food since you can use a convection oven instead.
A convection oven works well as a food dehydrator because its fan and convection cycle can speed up the food drying process.
Here are the steps on how to use a convection oven as a food dehydrator:
Heat the convection oven between 140 to 160 F
Place the food to be dried on the cookie sheet so that the food edges will not touch it directly and also allows plenty of air circulation around the food.
Place the loaded cookie sheet into the convection oven and then close the door or experiment while propping it open with a wooden spoon for better air circulation.
Remove the piece of dried food from the convection oven, and then let it cool before you taste it so you can determine if it's already dry or needs another round of drying.
There are a few things to keep in mind when you dry foods in the oven and other types:
Most ovens have hot spots that can cause some areas to dry faster than others. Throughout the drying process, make sure to rotate the pans so they will dehydrate uniformly. This is important, especially when using an oven toaster, since there is no fan that can distribute heat evenly.
Flip the food over several times throughout the drying process so that all sides of the items get dried evenly.
Leave at least 1.5 inches space apart so that the air can circulate around the foods as they dry.
The use of oven drying may vary, depending on the food. It may take up to 10 hours. Drier foods take less time, while juicer foods may take longer. Remember that if the food is sticky or moist, the drying process is not yet over.
Best Convection Ovens For Dehydrating Food
Here are some of the best convection oven that can be used to dehydrate food:
Black + Decker Convection Countertop Toaster Oven
This spacious oven can fit almost standard pans with handles; therefore, you can go straight from the oven to the table.
Also, the included baking and broiling pan fits perfectly so that you can easily remove and insert the food.
This convection oven can also be used to dehydrate food, thanks to the powerful convection fan that circulates the warm air throughout the oven for fast and even baking.
Other functions include baking, broiling, toasting, and keeping the food warm.
Pros:
It can fit most oven pans
Best value for the money
Comes with an advanced heating element
Cons:
The knobs are a bit difficult to turn
Oster Toaster Digital Convection Oven
Dimensions: 16 x 20 x 11 inches
This large digital countertop oven can fit up a pan, measuring 2 x 11 x 13 inches. It is equipped with a convection technology that has a wide temperature range of 150 to 450 F.
It has digital controls that come with 7 cooking settings and an interior light for easy viewing.
Also, it features convection technology that can be used to dehydrate food, allowing even air circulation so that food items will get an evenly distributed heat.
On the interior, it features a light wherein you can monitor cooking progress, and the 90-minute timer automatically shuts off, so you can cook worry-free.
Pros:
One-touch operation
It has a large interior capacity
Includes durable baking pan and removable crumb tray for easy cleanup
Cons:
Buttons are hard to push and it slides around
Dehydrating Food In An Instant Pot
Dehydrators need to circulate air to dry the items inside, where an instant pot does not have that type of feature.
In fact, the environment would be too humid with the lid on. An instant pot is like the reverse of dehydrating, where it can be used for braising and steaming.
But, if you really want to dehydrate, you may look for round nescos with a built-in thermostat.
Differences Between Instant Pot And Dehydrator
An instant pot is a modern and versatile appliance that can work on a series of multi-use appliances, consisting of specific use to fit a wide array of kitchen and users.
As a multicooker, it can replace more than 7 appliances in the regular kitchen since it has a wide range of cooking options with the same method of cooking style.
For instance, it can work as a pressure cooker, saute pan, rice cooker, and many more. It uses water or broth to create steam and build pressure within the cooking pot. It works oppositely with a dehydrator.
Meanwhile, a dehydrator is an electrical machine that gets rid of the moisture content of whatever is inside the machine. It is equipped with trays, heating elements, vents, and a fan for circulation.
Its heating element raises the temperature inside the machine, producing an evenly distributed heat, which removes moisture while the tray holds the food item you wish to dehydrate.
Dehydrating Food In A Pressure Cooker
Most dehydrated food recipes need a dehydrator, though there are some items, such as fruit leather, that you can prepare using an oven on a low setting.
A mandoline slicer must be used with caution, and the use of a pressure cooker can speed up the drying process. However, they are not necessary to make dehydrated food delicious.
Differences Between Pressure Cooker And Dehydrator
A pressure cooker uses hot steam and pressure to quickly cook food.
The science behind a pressure cooker is simple.
The lesser liquid you use for steaming or boiling, the shorter the cooking time. In addition, pressure cookers are also important for home canning enthusiasts.
Without the use of a pressure cooker, it is difficult to get canned fruits and vegetables heated to high temperatures, preventing the growth of botulism.
It is because pressure cookers are capable of making and storing batches of canned tomatoes, strawberry jam, and canned beans safely and efficiently.
On the other hand, dehydrators dry foods by circulating air at a very low temperature. The foods must be arranged in a single layer without touching each other so that they can be dried fully and evenly.
However, different temperatures are required for different foods, depending on their water content.
How To Use A Pressure Cooker As A Dehydrator
A pressure cooker is a sealed chamber that traps the steam generated as its contents are heated. In general, the higher the temperature, the shorter the cooking time due to lack of evaporation.
Hence, a pressure cooker can also be used as a dehydrator, and here are some tips on how to use it.
Pressure cookers work with steam, so no liquid means, no steam. You cannot, and you should not use your pressure cooker unless you have added enough liquid.
Do not overfill it. Most pressure cookers have a minimum and maximum mark on the inside pot. You must not exceed this. Overfilling may lead to food being ejected from the pressure cooker. If this happens, you need to clean the parts thoroughly and leave enough room in the pot for cooking.
Set the pressure cooker with the right amount of heat. If you take too long to dry up the food, the food items can end up being overcooked and super dry. Gas and induction allow for turning the heat down, whereas electricity tends to retain heat.
Check the pressure cooker from time to time to see how it is going. Flip also the food item to get an even drying process.
Best Pressure Cookers For Dehydrating Food
Here are some of the recommended pressure that can work as a dehydrator:
Ninja OP302 Foodi 9-in-1 Pressure Cooker
This 9-in-1 Ninja Foodi is a pressure cooker that works on different cooking settings. It can work as a broiler, air fryer, roasting, baking, and many more.
The pressure cooker is made from a 6.5-quart ceramic coated pot that is nonstick and also dishwasher safe.
It also includes a dehydrate function, which can be useful when making homemade snacks such as fruits and jerky.
Pros:
Passed 14 levels of safety
Includes different accessories, such as reversible rack, crisp basket, and recipe book
Nonstick and dishwasher safe
Cons:
Instant Pot Duo Crisp Pressure Cooker
Capacity: 8 quarts
This versatile pressure cooker from Instant Pot Store has an 11-in-1 touch cooking program, wherein it can be used to steam, saute, warm, air fry, bake, broil, dehydrate, and many more.
It is made from high-quality stainless steel with sleek surfaces so that you can wipe clean and drip the cooking pan. Also, the cooking tray and basket are all dishwasher safe.
Pros:
Comes with 11 built-in programs
Easy to clean
Versatile and space-saving in the countertop
Cons:
The air fryer lid is a bit heavy
Dehydrating Food In A Smoker
It is fairly easy to dehydrate foods in a smoker unless you can control the temperature and keep it down low.
Remember that meat is almost 75% water, so it may take a longer time to dry it and make it jerky. Meanwhile, if the temperature is too hot, it may overcook or overburn the exterior.
Therefore, the use of pellet smokers is advisable since it is already set and forget about digital controls. Grills and smokers are ideal for drying tomatoes, jerky, and chilies.
Differences Between A Smoker And Dehydrator
Are you thinking of extending your kitchen's capabilities but torn between purchasing a dehydrator or a food smoker?
Well, the two may be confusing at first, but once you take a closer look, the two are very different, do distinct jobs, and it is easy to tell which is right for your needs.
The difference between a smoker and a dehydrator is the movement of air. In a dehydrator, to remove moisture from the food effectively, heat is used to release the moisture, and then the air current is utilized to remove the moisture in the form of humidity.
That is why many dehydrators have a fan unit inside, which creates an air current.
The current will send hot, humid air to the vents where it will be released, and new cooler and drier air is pulled in to ensure that sufficient moisture can be removed from the food in a very effective cyclic process.
On the other hand, a smoker requires the flow of air on how its process will work.
The smoke must circulate efficiently to ensure that the food is smoked and the air is replaced on a regular basis to draw more smoke into the smoking chamber.
This process is automated with electric smokers; however, with other models of smokers, the user is in charge of controlling the vents and the door of the smoker to create the right amount of airflow.
How To Use A Smoker As A Dehydrator
Jerky is easily made in the food dehydrator, oven, or even you just laid it out in the sun. You can also make them in the smoker.
The benefit of making jerky in the smoker is that they create great smoky flavor, which you cannot get the other way around.
However, it is easy to over-smoke jerky since the meat is cut thinly before being smoked, hence it is essential to follow the steps carefully.
Prepare the meat. Start with a very lean cut of meat; the sirloin tip roast is a good basic protein for jerky since it is lean and easy to manage. Trim all the fat from the meat, then cut the meat across the grain into 1/4 -inch slices.
Flavor your jerky with different spices and marinades that will appeal to your taste buds. You may also keep it simple by sprinkling salt and pepper before you smoke. If you are using a marinade, combine the ingredients, add the strips of meat, and set it aside in the refrigerator to marinate it overnight.
When smoking jerky, just set it at a low temperature and a little smoke. Do not use extra smoking chips in the smoker when making jerky. Ideally, the temperature must be below 65 C. An electric smoke will introduce a small amount of smoke, but charcoal or hardwood fire gives off plenty of smoke. Smoke the jerky until it becomes completely dry. Depending on the climate, it can take between 12 to 72 hours.
Before storing jerky, make sure it is completely dried and cooled, it will produce some moisture as it cools, so spare some time until it completely cooled down.
Best Smokers For Dehydrating Foods
Masterbuilt Analog Electric Smoker
Dehydrating food in this smoker is easy since it has a built-in temperature gauge where you can control the temperature.
The good thing about this smoker is that it is electric, so it will not give too much smoke, unlike charcoal or propane.
The three chrome-coated racks offer plenty of room to smoke up to 3 chickens, 2 turkeys, and many more so you can dehydrate more food items in one batch.
Pros:
Equipped with built-in temperature gauge
Comes with 1,500-watt heating element oven for consistent smoking
Designed with wood chip tray slides for easy ash removal
Cons:
The paint began peeling after first use
Char-Broil Digital Electric Smoker
This electric smoker is the perfect smoker for grilled food enthusiasts having a large space to cook.
It comes with an easy-read, blue LED display panel and a removable food thermometer so you can control the temperature.
The front door is equipped with glass and stainless steel, so you can see the inside without actually opening the door.
Pros:
Comes with a removable temperature gauge
It has a warming feature
Comes with a hassle-free grease removal and cleaning
Cons:
Final Thoughts
Dehydrators are used to dry foods by circulating air at a very low temperature.
No worries, if you do not have dehydrators at home, you can still dry foods with the use of some of your kitchen appliances such as an air fryer, convection oven, pressure cooker, and smoker.
In addition, you can also use a microwave to dry food. Using the defrost setting, you can dehydrate thin slices of fruits in just 30 minutes, though some juicier fruits may take longer.
However, it is not the most efficient method to dry foods, it's better to buy a real food dehydrator.
For recommendations on the best dehydrators, check here.