When you use confectioners sugar for the icing, dusting, and frosting, you can add a lot of color and design to your baked cake, pie, or cookie.
Some use this for making candies or mixing them into fudge. Others add it to chocolate milk. But remember that the confectioners' sugar has a melting point of 160-186°F, which will dissolve when used with a beverage.
While you can grind refined table sugar in the blender or coffee grinder by yourself, why bother when you can get it conveniently in the store without any mess or trouble?
The hassle of cleaning up and mixing sugar with either cornstarch or tapioca starch is too tedious.
So it is important to choose the proper sugar to avoid all this mess. Below are my top 8 go-to choices for baking.
Top 8 Store-Bought Confectioners Sugar Products
With many brands in the market, I chose eight confectioners sugar available online. I listed down the top choices with some feedback to guide you through your purchase.
Some are more than the usual 1-2 lbs, but others are less. Depending on your need, if you plan to do batch-baking, sell to friends, or give away, you have the list below to help you make your choice.
Domino Confectioners Sugar
My Review:
Domino Confectioners Sugar is an institutional brand that has been around for more than 100 years.
When I bought the 4 lbs bag, I needed to portion my use and store the rest in an airtight container.
I was not that worried that it will soil and read it has cornstarch to prevent caking, so it should last as long as three years if stored properly.
The 4 lbs resealable bag is perfect for batch baking, selling your baked goods, making candies or fudge to give away.
Otherwise, if it is for personal use, the bag will sit in your pantry for a longer time. Since you only need a few cups to first a cake and maybe a few teaspoons to dust a cake, you will be stuck with a lot of powdered sugar.
I was careful not to get confused with the packaging as it says 10-x powdered which, I knew was another term for the degree of fine grinding of the sugar.
Otherwise, I would have wondered if the 10x stated on the top center of the bag meant 10x 4lbs of the powdered quantity.
The net weight is indicated on the lower portion of the bag to separate the package quantity.
Key Features:
Label says pure cane sugar without mention of cornstarch quantity and can be dangerous for people with allergies.
The 4 lbs bag is ideal for bakers or people who sell baked products, but a bit of a big pack for household use with extra quantity stored in an airtight container.
Domino is a reliable brand that maintains its high-quality confectioners' sugar that is perfect for frosting the cake, glazed fudge, and candy-making.
---
365 by Whole Foods Market
My Review:
365 Whole Foods Organic Powdered Sugar used organic cane sugar and organic cornstarch.
Originally this was made with organic tapioca starch, but using organic cornstarch hardly made a difference.
A plus side is an organic certification, GMO-free, and Kosher-certified label. It is priced mid-range compared to the other organic brands.
I baked a lot and noticed the big difference between regular confectioners sugar and this brand.
I tried using it to make the buttercream frosting, but it had a grainy texture and hardened quickly. Even after sifting, the sugar crystals were not thin enough to go through the sifter. The frosting had a crunchy texture.
If you expect a smoother and even texture, this is not the product for glazes, icing, and frosting. It has a lumpy consistency, almost like crumbly sand, which can not work with buttercream or icing.
Key Features:
Sugar is not small enough to go through the sifter, which produces a crunchy texture for the frosting or icing.
This brand is not a good fit for buttercream because of the grainy texture.
It is confusing to buy this product because other boxes show tapioca, while the others have cornstarch.
---
Wholesome Sweeteners Organic Powdered Sugar
My Review:
Wholesome Sweeteners, Inc. Organic Powdered Sugar gives me a boost of confidence with the knowledge there were no chemicals, no pesticides, no herbicides used with this fertilized sugar.
It is also a Non-GMO project that assures me that the product was grown naturally. This Vegan, Kosher, and Gluten-free sugar are considered a high-end product in the market.
This 100% Organic Powdered Confectioners Sugar is a step up from other commercially made brands.
It has the magic words, Organic and Non-GMO project-verified to keep my family free from toxins that come from fertilizers, and possibly allergens brought about by chemicals.
I try my best to avoid any harmful ingredients that my kids will eat, whether for snacks or desserts.
I noticed this when I made a cake with simple icing there was a hint of toffee-flavor.
This is because the molasses from the unrefined and unbleached sugar allow a little bit of toffee caramelizing. Like many bakers, the tapioca anti-moisture ingredient gives a smooth and mellow texture.
Key Features:
---
C&H Powdered Sugar
My Review:
C&H has been in the market for as long as I can remember.
This brand is my tried and tested brand that I have used over the years and experimented with frostings, glazes, and sprinkling over dessert.
I like that C&H kept its high-quality consistency, earning itself the name creme de la creme of buttercream and priced on the higher side of the market.
When I open a carton of C&H, I know what to expect. I use this for frostings or sprinkle it into the desserts, and it will not lump up.
While baking my special cake, I like that this product has no trans fats or preservatives. It is so easy to make that it is crazy to buy commercially-made frostings when I can do it myself.
When I sift through the snowy white sugar, it becomes a super light texture that looks delicate and soft. I added ½ cup or a stick of softened butter, ¼ cup of milk, 1 tsp of vanilla, then mix into the C &H pure cane powdered sugar.
When I made my frosting, I followed the instructions and voila! Instant home-made frosting in less than 5 mins.
Key Features:
Many resellers carry this brand and charge a higher price, so it is important to scroll through the page until you get the direct source.
There are no trans fats or preservatives mixed into the confectioners' sugar.
Box size is just right for a few recipes without having to worry about storing the remaining sugar for a long time.
---
Gefen Confectioners Sugar
My Review:
Gefen Confectioners Sugar has the label premium confectioners sugar without cornstarch.
It is a certified Kosher product for Passover and other occasions. It also uses Tapioca starch to guarantee non-allergic incidences to corn products. This brand is priced on the higher-end market.
I tried Gefen Confectioners Sugar because I had an order of cake with direct instructions not to use any corn products as some of the guests may be allergic to it.
Gefen has Tapioca starch to absorb that moisture, so it does not lump up. Using this product takes care of any worry and concern that someone might have an adverse reaction to cornstarch.
The thing is, when I tried it for the first time, I noticed it was hard, lumpy, and extra sweet than the regular confectioners' sugar.
I figured you have to adjust the frosting recipe by a tad less and experiment on the outcome.
When you finally get the correct ratio, you will be satisfied with this product. Until then, you will have to keep experimenting.
Key Features:
It is safe for people with corn allergies because it uses Tapioca starch, and not cornstarch.
The consistency has to be tweaked when mixing the confectioners' sugar with the other ingredients since the frosting hardens right away.
It is best to lessen the sugar measurement as the taste seems sweeter than usual.
---
Great Value Confectioners Powdered Sugar
My Review:
Great Value Confectioners Powdered Sugar from Walmart is priced on the lower-end as a grocery item for all households.
Sold as a pack of 2 pcs for each 2 lbs bag, you will have to portion your immediate use and keep the rest in an airtight container.
The sugar is finely powdered to the right consistency to make it easy to create frosting, icing, and dusting for donuts, waffles, and pancakes.
The first thing that you would expect is low price means low quality, correct?
On the contrary, I used it and was surprised to see the same result as the more expensive and known brand.
In other words, there was no difference at all, plus you saved a lot buying Great Value instead of the pricey artisanal products.
As with any powdered sugar, it tastes like sugar without any aftertaste. If you have no problems with cornstarch allergies, you will open the bag with light and fluffy sugar goodness minus the lumps.
All the glazes, icing, and frosting I have used with Great Value came out smooth without the grainy lumpy texture.
Key Features:
Great Value Confectioners Sugar is priced cheaply but performs as well as other high-end brands of confectioners sugar.
It maintains its quality of smooth and light texture, making the task easy for icings and frostings. 
It mixes well with other baking ingredients without the clumpy and grainy texture.
---
Signature SELECT Sugar Sugar Confectioners
My Review:
Signature Select Powdered Cane Sugar from Safeway is priced on the lower-end market.
Made from cane sugar mixed with cornstarch to prevent lumping from moisture. It is a product for baking needs, particularly in the glazing, icing, and frosting part.
I tried using the Signature Select Powdered Cane sugar to get the fluffy white icing, and it was a success. I used four cups of sifted Signature
Select Powdered Cane Sugar, one cup of shortening, four tablespoons of milk, and two teaspoons of vanilla.
Using an electric mixer at medium speed, beat together for 30 seconds, then set aside until you are ready to decorate your cake with the frosting.
The icing was smooth without any clumping and the no grainy texture from the sugar.
Added to the cake, I was proud to see how nicely it settled without any lumps or issues, and also no presence of grainy appearance.
This product is as good as the expensive brands, and I was glad I did not have to spend more than necessary.
Key Features:
There is hardly any product information about this brand unless you search for recipes using this brand.
Signature Select is priced low, but it is value for money because of its good quality.
Signature Select Powdered Sugar can produce the same smooth and even consistency as the other expensive brands.
---
Kroger Confectioners Sugar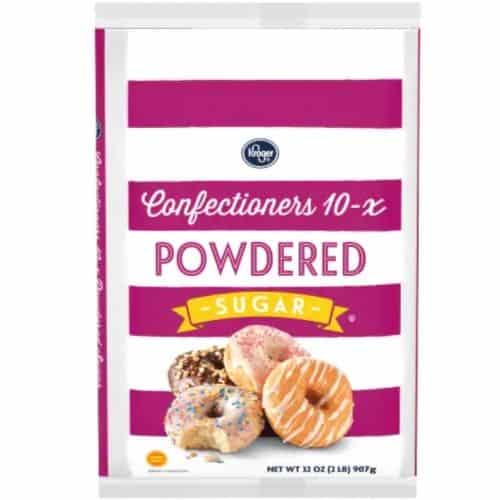 My Review:
Kroger Confectioners 10-x Powdered Sugar is so far the cheapest brand for the 2 lbs. weight category. Its label states sugar and cornstarch that may have some other derivatives.
So if you are sensitive to corn products, this should not be used for your desserts, even if it is just as a dusting powder or icing on the cake.
I find Kroger sugar as easy to use as any powder sugar brand. I did not encounter the clumping of sugar when I made the buttercream frosting.
With three cups of Kroger Confectioners' Sugar, I added one cup of butter, 1 ½ teaspoon of vanilla extract, and 1 tablespoon of heavy cream. It came out nice and smooth after I refrigerated it.
I used the confectioners' sugar for dusting my newly baked donuts, then sifted to make it light and fluffy before letting it land in the warm donuts.
I had no problem with the clumping, and the sugar settled nicely on the surface without any lumping.
Key Features:
This product cannot be used for people with corn allergies as the product carries 3% cornstarch to prevent lumping. 
The packaging is an economical and practical size, that can be stored in an airtight container without worrying it will harden or lose its textures. 
The product is on the lower side but does the job as any expensive brand.
How To Choose Confectioners Sugar (Buying Guide)
When you buy a pack of confectioners sugar, remember that you are dealing with refined sugar that can either clump and melt if left in a hot place.
If you fail to transfer it in an airtight container, you will see ants and insects feasting on your pack. You have about two to three years to use up the remaining confectioners' sugar if you follow correct storage conditions.
What is it Made Of?
Confectioners sugar is any refined sugar that's finely ground.
The confectioners' sugar is mixed with about 2%-5% cornstarch or tapioca starch in every pack to prevent caking or clumping.
The anti-caking agent prevents moisture and maintains its powder form.
Availability
You can get hold of confectioners sugar in the groceries, baking shops, or order online in Amazon, Walmart, Safeway, Krogers, etc.
Takeaway
Confectioners Sugar is also known as Powdered Sugar and 10x Sugar. It is an essential ingredient for different baking needs such as icing, frosting, and dusting powder.
It produces different consistencies and textures when used in varying temperatures and mixed with baking materials.
I would recommend the brands Domino and C&H for a guaranteed no-clumping and smooth texture consistency.
But the store brands Great Value, Signature Select, and Kroger are house brands from the groceries and perform as well as the expensive brands.
For people with corn or gluten-free allergies, Organic labels such as 365 Whole Foods Market, Wholesome Sweeteners, and Gefen Confectioners Sugar.
While the price range differs, from high-priced to low-end, it allows the customer to choose what best suits them.
On the contrary, a few of the higher-end labels turned out lumpy and hardened when used. The low-end labels performed the same as their expensive brand counterparts but with a lower price tag.
Photo credit: ©canva.com